Kim Richards Slams Lisa Vanderpump During 'RHOBH' Reunion: 'You're Full Of Bleep!'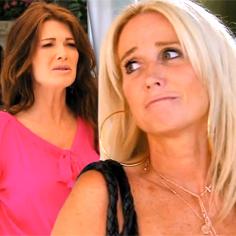 Article continues below advertisement
Richards – who is now sober – identified her problems with Vanderpump, admitting she doesn't believe that her co-star's concern about her whereabouts, while she was battling her addictions, comes from a place of genuine friendship.
"Yes, I missed a whole lot, Lisa, and it wasn't just your party.
Faked Scenes, Lies & Payoffs – The Ultimate Guide To Reality TV Shows
"I missed a huge chunk of my f–––ing life and my children's lives, and I'm sorry if I missed a party or two," Richards says.
Vanderpump jumps on the defense, insisting she is "pissed off" by the accusations and "never made a big deal" about Richards' absence from various events.
But Richards isn't ready to give in.
"I've never actually seen you be there for any one of us," Richards said. "You're full of s––– right now."
Watch the heated exchange between Richards and Vanderpump below: