Kim Brings The Cray Cray To Paris! Richards' Bizarre Behavior Sparks Fears About Sobriety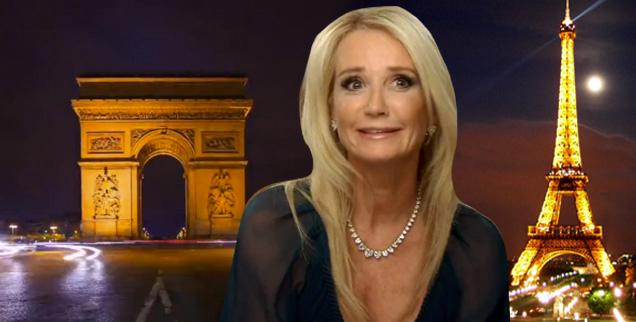 Kim Richards' bizarre behavior on a trip to Paris has her family and friends worried about her sobriety on the upcoming episode of the Real Housewives of Beverly Hills, where her actions are so over the top!
As Kim greets her sister Kyle Richards in the City of Lights, she randomly announces that she's "looking for takers for a threesome" but rules out her family, which was good for Kyle's husband Mauricio Umansky.
Article continues below advertisement
The blonde is showing off her plastic surgery with her new nose, but it is her erratic actions that cause the other women to take note of her behavior.
Kim brushes off the criticism, saying: "We just arrived in Paris and I am exhausted. I guess I was the last one upstairs. Oops!"
As she stands with her sister she is making so many faces that Kyle becomes concerned.
"Why are you making that face? Is everything ok?" and Kim quickly says she feels like she is going to throw up.
She then tells Lisa Vanderpump a convoluted story about when she actually arrived in Paris, and Lisa voices the fears that everyone seems to be feeling, considering Kim's past rehab stint for substance abuse.
"I'm worried about Kim's behavior she seems to not be that lucid. The Kim I'm seeing tonight is not the Kim I've been seeing for the last few months."