Kim & Kyle Richards Confront Taylor About Drinking, 'I Drink To Forget,' Armstrong Admits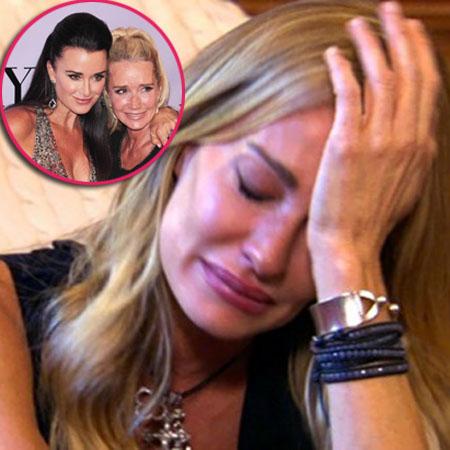 It was either the pot calling the kettle black or speaking from experience, but Kim and Kyle Richards confronted Taylor Armstrong about her drinking habits on the latest episode of The Real Housewives of Beverly Hills, and RadarOnline.com has all the details.
"The other night at my house when Taylor called, I was completely caught off guard. I was shocked by the phone call, I was shocked by everything that was said, and I believe Taylor has a problem with drinking," Kim said referring to last week's episode when she "lost" her daughter Kennedy because she'd been drinking.
Article continues below advertisement
"Taylor has a lot of pain that she's dealing with, and I believe that Taylor is using alcohol to escape from her feelings at times."
Having gone through her own stint in rehab, Kim confides in her sister that she feels they need to intervene with Taylor.
"I do care about Taylor, and I really can't sit here and watch it happen to someone close to me," she said.
"I'm going to say something to her, and I'd like you to go with me."
The girls head over to Taylor's house where she appears defensive at first, but eventually admits that she drinks to forget all her hardships.
"I just want to say one thing, Taylor," Kim said. "I'm not going to sugar coat it or be afraid to tell you that I do recognize when I see somebody that I feel has a drinking problem."
"I don't drink very often, but when I drink I find that I can forget a little bit about all the stress I'm under and all the pain I'm feeling," Taylor admitted.
"It's been a hell of a year, it's been bad. There are definitely times when if two drinks helps you forget, then four…you start to feel a hell of a lot better. And then the next day I wake up and I'm in the darkest place I can be in."
The Real Housewives of Beverly Hills airs Mondays at 8/7c on Bravo.