That's A Little Hypocritical! Kim And Khloe Kardashian Joke About Rob's Weight Gain, Stretch Marks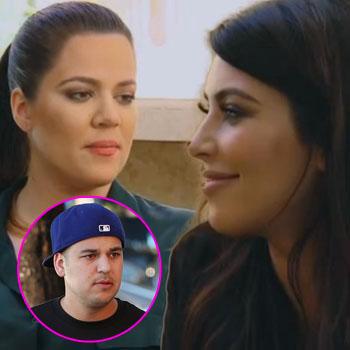 Kim and Khloe Kardashian's have both been bullied for their weight, but that isn't stopping them from weighing in on their brother Rob's body image!
In a preview clip from this Sunday's episode of E!'s Keeping Up with the Kardashians, the famed sisters get snarky about their younger brother's sudden weight gain, making jokes about his stretch marks and strategizing how they are going to trick him into quitting his fast food habit – and RadarOnline.com has the video.
Article continues below advertisement
While having lunch together at Kim's home, the sister chat about the aftermath of Rob packing on over 40 pounds in the wake of his breakup from Rita Ora.
"So I was getting a massage last night, and the girl told me if you scratch yourself that's how you get stretch marks because your skin gets really itchy," Kim, who has been dealing with weight bullying herself during her pregnancy, says to Khloe. "And Rob has them. Maybe for the fact that he flakes on me all the time."
"What are we gonna do?" Khloe, who frequently discusses her own weight woes and how she has been bullied for her body since she was a kid, asks.
"I don't know at this point," Kim responds.
"Reverse psychology. We need to psyche him out," offers Khloe, comparing his overeating situation to that of a smoker.
"So, maybe let Rob binge out a little."
"If we put him in a room and just give him burgers, fries and pizza," Kim chides.
"We get him so sick that he's like I could never eat fast food again," Khloe recommends.