#ThrowbackThursday: Before There Was Kanye, There Was… George Clooney!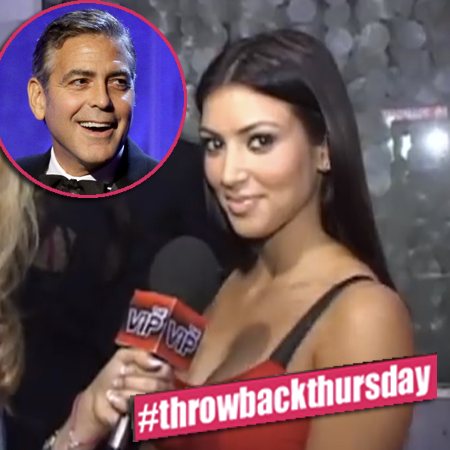 It's #ThrowbackThursday (or #TBT if you prefer), which means RadarOnline.com is taking a look back to move forward on some of today's hottest stories.
This week, we take a look at a July 2007 red carpet interview with Kim Kardashian in the early days of her time in the spotlight -- long before she got the attention of power brokers like the president or Anna Wintour -- at a time when her sex tape with Ray J was her main claim to fame.
Article continues below advertisement
Speaking with Maximo TV, Kim was asked who her celebrity crush was -- and while Kanye West was already well-established as a hip-hop superstar at the time, her now-fiancé wasn't the answer.
.
Watch the video on RadarOnline.com
"George Clooney," Kim said, adding, "I've got an island in Italy just for you George.
"I want to marry him."
When asked about the weirdest rumor she never heard about herself to that point, the socialite responded, "That I have a fake butt."
"It's ridiculous -- it's real people, it's real."
Of course, in the seven years since the chat, Kim has skyrocketed to international fame, replacing Paris Hilton as pop culture's premiere celebutante, with a well-publicized reality show, 72-day marriage and high-profile engagement to the hip-hop icon.