WATCH: Ski Tricks Crash! Kim Kardshian Wipes Out On The Slopes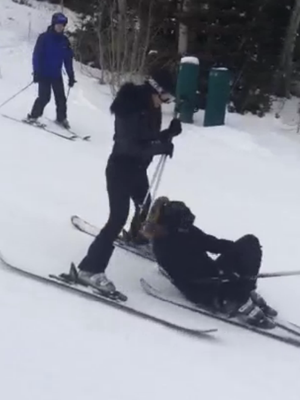 Wipe out! Kim Kardashian is not quite ready for the Sochi Olympics after her trick on the slopes turned into a crash and RadarOnline.com has the hilarious video of her skiing mishap.
Kourtney Kardashian is goofing around with her sister while her baby daddy Scott Disick captures the snow bunnies, bundled up in fur coats, on camera for Keek.
"If you make me fall I'll kill you," Kim says as Kourtney squats down and successfully skies through her legs.
Article continues below advertisement
However, Kanye West's baby mama doesn't have the same luck on her trick.
While Scott is directing Kim, telling her to "slow down," while bossing Kourtney around by telling her to "let her under," Kim makes it through Kourtney's legs but can't manage to stand back up.
"I did it perfectly two other times!" she exclaims as she's sitting on the snow.
Dec 31, 2013 | Freaks by ScottDisick on Keek.com