Where's Kanye? Kim Kardashian Visits The Most Romantic Spot In Paris - With Her Mom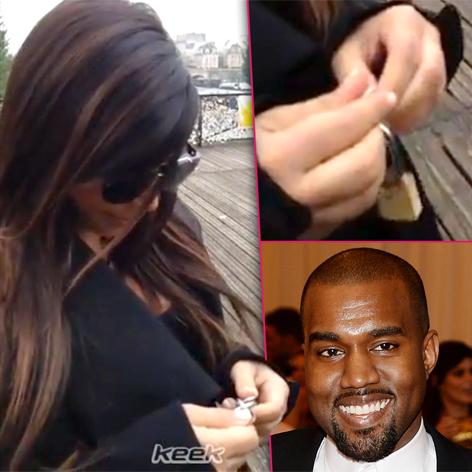 Just weeks before giving birth, Kim Kardashian jetted off to Paris for a romantic trip…and she spends time with her mom Kris Jenner while her baby daddy Kanye West is nowhere to be found.
The pregnant reality star was back in the City of Light where Kanye has been living for the last few months and RadarOnline.com has the video her mother captured of her solo visit to the most romantic spot in the city.
Article continues below advertisement
"We're in Paris, there's Kimmy," Kris narrates in the Keek video, showing Kim dressing her baby bump in all black on a gray day in Paris, but without Kanye.
Kim's relationship with Kanye has been under fire recently, and she admitted that they "lead different lives."
Kris describes what they're doing at the romantic Parisian spot.
May 21, 2013 | True Love by KrisJenner on Keek.com
"We are on the bridge of love with all the locks that everybody puts on here," she says, and the video shows a person with a larger camera recording their trip to the bridge, most likely taping for their reality show Keeping Up With the Kardashians.
"They write something on their locks and then they throw the keys in the Seine River," the matriarch of the Kardashian family continues to explain.
"It's one of the most romantic gestures I think that a couple can do," she says, but while Kim is there with a lock she isn't with her beau on the bridge.
The video ends with Kim alone with her mother and without Kanye, struggling to hang her lock.
"So we're gonna do it but I can't get our keys out," Kim tragically says.
The new season of Keeping Up with the Karsdashians premieres on E! on June 2.