Strike A Pose: Kim Kardashian Flaunts New Blonde Hair — And Her Obsession With A Camera — In Internet Video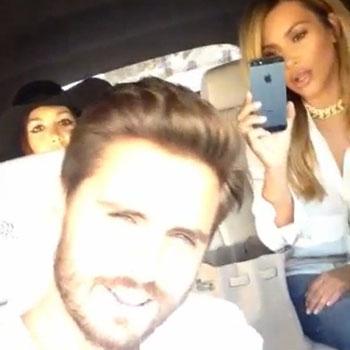 Kim Kardashian is showing off her dramatic new blonde hair in a family video but she isn't satisfied with just one camera focused on her so she makes sure she's filming herself too.
Scott Disick is filming the video he posted to Keek where the whole family is sing along to Drake's song "Hold On We're Going" home while riding in a car.
Just like her sister Kendall Jenner, Khloe is driving while being filmed and singing, but at least she isn't the one holding the camera.
Article continues below advertisement
Kim is sitting in the backseat with her long blonde hair and holds up her phone to capture the musical show her Kourtney, Khloe and Lord Discik are putting on.
North West's mama looks like she's slimmed down since giving birth on June 15 and spends most of the time while not singing pouting with her puffy lips.
Her baby daddy Kanye West is in New York City for fashion week where he has been spotted smiling from ear to ear in photos but noticeably absent is Khloe's hubby, Lamar Odom.
Her marriage has been under fire since his cheating and drug allegations surfaced, but she puts on a brave face while singing Drake's hit song.
What would Amanda Bynes say?
<br />
<p style="font-family: arial; font-size:10px; color:#7C7C7C; margin: 0;"> Sep 9, 2013 <span style="color:#C3CED5">|</span> <a href="https://www.keek.com/ScottDisick/keeks/7t9hdab" target="_blank">U a good girl and u know it </a> by <a href="https://www.keek.com/ScottDisick" target="_blank" alt="ScottDisick">ScottDisick</a> on <a href="https://www.keek.com" alt="keek videos" target="_blank">Keek.com</a></p>