Kim Kardashian On Pre-Birth Baby Drama: 'If Labor's Worse Than This ... I'll Slit My Throat!'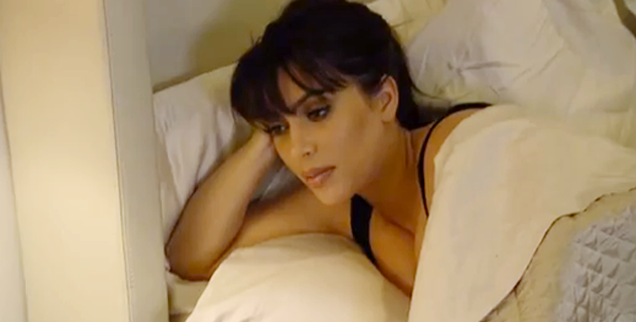 Kim Kardashian, who gave birth to her baby daughter by boyfriend Kanye West on Saturday, had suffered through a pregnancy drama months before, viewers learned from Sunday night's episode of Keeping Up with the Kardashians.
Although the world now knows Kim and her baby are absolutely fine, according to the E! show, she had been in such pain while pregnant that she cried while lying on a hospital gurney, "If labor's worse than this, I'll hang myself, I'll literally take a knife and slit my throat!"
Article continues below advertisement
The shocking episode revealed that Kim's sister Khloe had called their mama Kris Jenner and told her Kim needed to go to the hospital. Kim was on a flight that had just landed in Los Angeles and she was in excruciating pain. Kris rushed to the hospital.
"I"m scared!" she told husband Bruce Jenner as she rushed out the door.
Kim sobbed to her mother after they met in the hospital, "It hurts so badly. I can hardly walk."
While lying on a gurney, Kim told her doctor, Paul Crane, that she felt like she was in labor.
"I hate it so much!" Kim cried. "This is so painful!'
While both worried about the health of the baby, Dr. Crane showed the mother/daughter duo that the baby looked fine in the ultrasound -- and it was a major relief when Kim and Kris heard the little girl's comforting heartbeat loud and clear. Kris wiped tears away from her eyes.
Article continues below advertisement
Kris called Kanye and put the rapper on speaker phone, so Kim could tell her boyfriend they had heard the heartbeat and that "the baby's fine."
But Kim also confessed to Kanye, "This pain is unbelievable." Kanye told her, "I love you." Kim said, "I love you, too." Concerned mama Kris also assured Kanye, "Your girl's going to be just fine. BOTH of your girls!"
After her doctor told her to go home while he analyzed blood tests, Kim still felt awful and told a friend she was in "the worst pain of my life."
In another office visit, Dr. Crane told Kim she might have appendicitis and it was hard to operate on a pregnant woman for that. When he touched Kim's pregnant belly, the TV beauty cringed in agony.
But the drama was over when Kim finally learned not long after that that she didn't have appendicitis, just "a little infection" for which she had to take antibiotics. Kim couldn't have been more relieved that she didn't have to have surgery.
Article continues below advertisement
Still, the pregnant star had to face even more stress in the Sunday episode, as she was to give a long-delayed deposition in her divorce case with Kris Humphries, her husband before she hooked up with Kanye. Kim worried she would be nine months pregnant by the time the depo took place.
"I really don't want to be married to Kris while I give birth to our baby," Kim sighed about her and Kanye's child. Kim told Kris the divorce had dragged on so long and she was so sad over the situation and her mother was sad, too, because it should be the happiest time of her life. While getting ready for the deposition, Kim told her makeup artist she wished she could tell Kris, "I loved you. I still do. We never should have rushed into it. It doesn't mean we can't be friends."
MORE ON:
Keeping Up With the Kardashians
At the end of the episode, Kim saw her friend Lala Anthony after the deposition and informed her that although she was there for seven hours, Kris didn't show up. Kim told a sympathetic Lala that she really did love Kris and "it's important for me he knows that."
But the deposition seemed cathartic to Kim, as she said she wasn't stressed out anymore and felt it was the first step to finally moving on.
Article continues below advertisement
Also in the episode, Kris fought with Bruce about whether they should keep a gun in their house after the family's swatting problem. Kim told Bruce that she didn't believe in guns but Bruce insisted to Kris that they protect themselves and that their daughters Kendall and Kylie should also take gun school.
"A gun is not going to be in my house!" Kris raged, while Bruce countered, "It's my responsibility to protect my family."
Bruce was able to rally other family members, including Scott Disick, Rob Kardashian, and his two sons, Brandon and Brody, to his pro-gun cause. Brody, for one, agreed with Bruce that he should have a gun in his home while Brandon was less positive about the idea.
Later, behind Kris' back, Kendall joined Bruce, Scott, and Rob at a gun range. But Kendall got stressed out about it because she was thinking about how guns kill people. Still, Bruce's daughter learned how to shoot while cocky Scott got chided by the teacher that he wasn't observing gun safety -- and promptly kicked Kourtney's baby daddy off the gun range! Scott told the girls later that the gun ranger took his joking around about guns too seriously while Kourtney said she wouldn't want him to have a gun around her!
Article continues below advertisement
When Kris found out Kendall and Bruce had gone to the gun range, she hit the roof, but her husband was adamant that "a gun's going in the house!"
Bruce told his other daughter, Kylie, he wanted her to learn how to shoot as well but she decided to respect her mom's feelings and not have anything to do with it. Although Kris and Bruce argued, he said, "I'm winning on this one" and went out and bought a gun and a lock box, which only he and Kendall knew how to operate in the house. Bruce and Kendall agreed they would both know how to operate the gun safe and maybe the rest of the family would accept the idea one day.
radar_embed service=youtube src="https://www.youtube.com/embed/C4oGIBNvz4o" width="560" height="315"