She's Not Sorry! Kenya Moore Makes Another Crass Comment About Kandi Burruss Eating Chick-fil-A On RHOA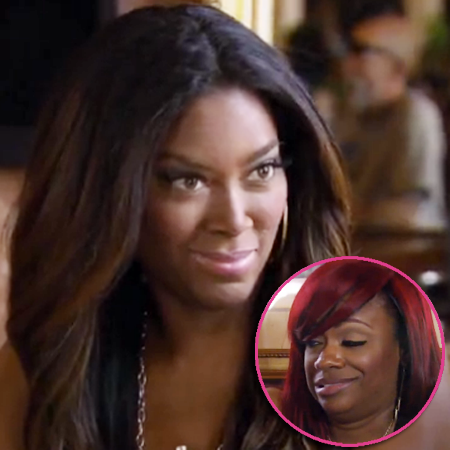 The Real Housewives of Atlanta star Kenya Moore recently tried to downplay her negative comments about co-star Kandi Burruss' weight on her Bravo blog.
But on Sunday night's episode, Kenya continued to make snide remarks about curvy Kandi's fondness for food!
When the housewives went on a bonding road trip to Savannah, Georgia, Kenya laughed when Kandi ran up the stairs of their lavish bed and breakfast mansion to claim the best room.
Article continues below advertisement
"I don't know what got into Kandi. Maybe she smelled some Chick-fil-A or a burger upstairs," Kenya sniffed.
As RadarOnline.com has previously reported, Kenya dissed Kandi on last week's show, saying she could "afford to skip a few meals" after she had stopped at Chick-fil-A.
But on her blog, Kenya backtracked, writing, "I made a wise crack. Kandi knows I think she has a great figure."
Sunday's episode, however, showed the beauty queen continuing to take potshots at Kandi!
Kenya also took issue with Kandi grabbing the master bedroom instead of NeNe Leakes, who had organized the trip. In fact, Kenya had a heart-to-heart with NeNe and told the RHOA alpha dog to establish some rules for their trip because "Kandi is out of control."
And under the pressure from Kenya, NeNe told the other ladies, including a newcomer to the group, Mynique Smith, to just behave!
NeNe let Kandi know that she should have had the master bedroom, leading Kandi to roll her eyes and tell the cameras that "unless your name is Mama Joyce, you can't tell me what to do!"
Article continues below advertisement
The episode also showed the housewives, while on the bus ride to Savannah, having a candid talk about sex with their men.
Kandi, who is engaged to Todd Tucker, revealed she is still on the pill.
"We don't have sex as much as we'd like to," Kandi confided.
Mynique -- who, as RadarOnline.com previously previewed, is married to ex-NFL player Chuck Smith, the man who dated both Kandi and Phaedra Parks years earlier -- told the group, "I've been married for 13 years, and I have done it every other day for 13 years unless I'm out of town."
NeNe offered, "I have a career, but I f*** my husband every week."
In Porsha Stewart's opinion, that wasn't enough!
"If he's your man, you're only going have sex with him one time a week?" the former wife of football player Kordell Stewart said. "You're not really doing what you're supposed to do."
After Porsha implied it's okay for your husband to cheat if he's not getting enough nookie, Kenya sighed to the cameras, "That's all your saying you're worth is, is what's between your legs."
Article continues below advertisement
"All wives should be submissive to the right person," Porsha told the cameras, but added that she did it for the wrong person.
NeNe, who remarried Gregg Leakes this year, explained how every relationship is different in her own inimitable style.
"Spreading my legs is not at the top of my list," NeNe told the cameras. "It's on the list -- It's just not at the top!"
During the pow-wow, Porsha began crying about her broken marriage to Kordell once again.
She was sad that the other women were supporting Mynique's view of marriage while she hadn't been able to make her own work.
"From this point on, I won't be going backwards," now-single Porsha vowed in her confessional segment.
Also on the episode, Mynique got into conflict with Phaedra when she told her not to be late anymore.
The offended attorney snapped, "I have a newborn and I have a job!"
Later, Cynthia Bailey told Mynique she "got read," by the other women, meaning that they were anticipating all her moves--and telling her like it really is.
Article continues below advertisement
Cynthia advised the new gal on how to better fit into the group -- starting with, getting her eye makeup done by the model agency owner!
NeNe implied Mynique's difficulty with the other women may have come from being bi-racial.
"That's what happens when you have black and white. You don't 'read' everything," NeNe explained to the cameras.
On Sunday's episode, as RadarOnline.com has previously previewed, Kandi and Phaedra then revealed to Mynique that both of them had dated her husband, Chuck -- long before he met and then married her.
Kandi admitted that it was a long-term relationship and her Mama Joyce had even approved of Chuck.
The music producer even declared that she wasn't as successful back then, so generous Chuck had helped her pay down her credit card!
But Kandi refused to tell the housewives what the sex was like with Mynique's now-husband.
Then Phaedra told the group about Chuck, "We grew up together. We dated when we were children. Then of course we dated again."
Article continues below advertisement
"He hit it. He quit it," Kenya commented naughtily to Bravo's cameras.
Kenya also made things uncomfortable for Mynique by pointing out, "If it was me, and I was in love with a guy ... and then later I find out that one of the other housewives used to date him, have sex with him, know what his package is like ... it would make me feel a little strange."
But Phaedra smoothed things over with Mynique, saying, "I respect you. I respect your marriage,".
Incredibly, Porsha and Mynique were the ones who soon got into a finger-pointing frenzy!
Porsha said Mynique needed to know that Chuck had misled her on how involved he had once been with Kandi and Phaedra.
"He didn't tell you everything!" Porsha shouted.
Mynique replied, "It is you and YOUR husband who don't communicate! I'm not about to let you make my husband look crazy. You barely know me, so be careful, boo! Be careful."
Finally, the other housewives calmed the two women down and Porsha apologized to Mynique, saying, "I did not mean to offend you about your husband."
NeNe got the group laughing by joking about Chuck, "I believe Kenya dated him as well."
But was the housewife bonding trip saved? We wouldn't bet on it!