Kandi Burruss Tells Kenya Moore To Shut Up: 'Nobody Give A F**k About What You Saying!'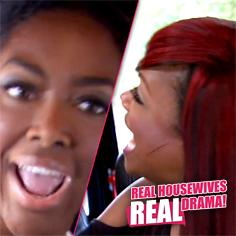 In the upcoming episode of the Real Housewives of Atlanta, all hell breaks lose as the housewives head down to Savannah, Ga. for a group trip, and RadarOnline.com has a sneak peek of the explosive fight between Kandi Burruss and Kenya Moore.
On the bus ride to Savannah, Moore tries to keep the women from quarreling, but it backfires.
"When we take a group trip, we do this every time," she lectures the group. "It's not right. We have to be respectful to each other."
Article continues below advertisement
"Who died and made Kenya the principle of the bus ride?" Bailey says to the cameras.
And Burruss takes it one step further and puts Moore in her place.
"Nobody give a f**k about what you saying, so sit your ass down!" Burruss shouts at her co-star.
Before the trip NeNe Leakes tells the cameras, "We're here to have a girls trip where we can bond" -- but bonding is the last thing that happens with the ladies.
Burruss also has a breakdown to Cynthia Bailey over the fact that her mom and family don't approve of her engagement to Todd Tucker.
"How am I going to have a wedding if my family won't even come?" she cries. "She doesn't see that this is hurtful."