After Dog's Tragic Death, Kenya Moore Is Trying For Baby Via In Vitro Fertilization This Summer, 'RHOA' Reveals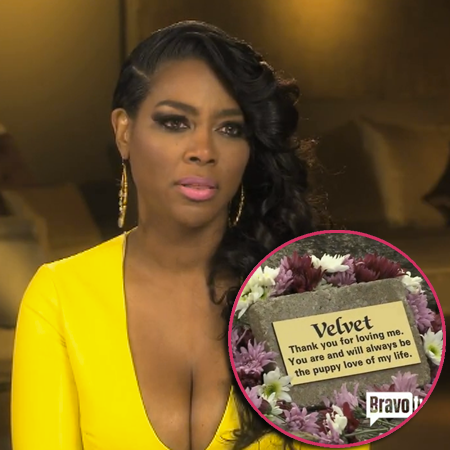 The Real Housewives of Atlanta wrapped up its most successful season ever by revealing that the show's firebrand Kenya Moore is forging ahead with her plans to have a baby.
At the end of Sunday's finale show, Bravo graphic announcements updated fans on what was happening with the RHOA stars since the show wrapped, broadcasting that Moore and her "African prince" were planning for her to undergo in vitro fertilization in June -- unless they conceived the natural way instead!
Article continues below advertisement
As RadarOnline.com has reported, Moore, 43, was heartbroken when her pet Yorkshire terrier, Velvet, was viciously killed by a neighbor's dog before her very eyes.
Watch the video on RadarOnline.com
The drama played out on RHOA last week and on the finale episode, viewers saw Moore conducting a memorial service for her beloved pooch with the help of her Aunt Lori, RHOA co-star Cynthia Bailey, and friend Toby.
"I still haven't come to terms with what happened," Kenya cried to Bravo's cameras.
Aunt Lori put the urn containing Velvet's ashes near a grave marker and Bailey said, "She was the sweetest dog anyone would ever want."
After Lori gave the eulogy for the dog Moore treated like her baby, the former Miss USA broke down in hysterical tears.
"Velvet was everything to me," she sobbed. "I love her so much and I know she's in a better place. I just thank God she was in my life."
Although Moore has said all season how much she wanted to become a mom — with or without a man in her life, she recently wrote on her Bravo blog after Velvet's death, "Clearly, a dog is not a child and can never be mistaken as one. Having a child is drastically different and life changing."
Article continues below advertisement
But now, apparently it's all systems go for Moore and her mysterious African "boyfriend," whom no one has seen—and the other housewives doubt even exists!
Also on Sunday's episode, Kandi Burruss told fiancé Todd Tucker (whom she has since married) that he had to sign a prenup. The successful singer and music producer, who has made much more money than Tucker, told him that co-stars Phaedra Parks and her husband Apollo Nida and Bailey and husband Peter Thomas had done prenuptial agreements.
Faked Scenes, Lies & Payoffs – The Ultimate Guide To Reality TV Shows
"I would be saying if we got a divorce, you wouldn't get any of it," Burruss told Tucker about what she had earned PRIOR to the marriage, which had the freelance TV producer looking uncomfortable. Burruss urged her man to just quickly sign the document, as Nida and Thomas had done!
And apparently he did, as Burruss and Tucker wed on April 4.
Article continues below advertisement
Meanwhile, at Parks' home, the attorney celebrated her graduation from mortuary school and becoming a licensed funeral director.
"Now you'll be back to the old Phaedra," Nida said, telling the cameras most men didn't understand the stress of being a working mom.
Viewers also saw Porsha Williams, her sister Lauren, and their mom Diane celebrating her divorce from Kordell Stewart.
After eight months going through the divorce, Williams said she had decided she wouldn't take any money from the former football player.
Williams got teary-eyed but mom Diane praised her, saying, "You kept your joy." At their urging, Williams finally removed her wedding ring and tossed it into her champagne glass!
By contrast, Bailey decided to spice up her marriage to husband Peter Thomas by sexily smoking a cigar to welcome him home.
"What are you trying to do?" he guffawed. They shared some champagne and she beckoned him to the bedroom.
Article continues below advertisement
And, as RadarOnline.com has previously reported, NeNe Leakes suffered a health scare during the episode and was rushed to the hospital after being diagnosed with pulmonary embolism, blood clots in her lungs (from which she has fully recovered).
Sunday's finale culminated with Burruss and Williams performing in the musician's play A Mother's Love, based on her Mama Joyce's strong disapproval of her fiancé Tucker.
Burruss was thrilled to see Tyler Perry in the audience but she was more pleased when Mama Joyce appeared and was in good spirits.
Watch the video on RadarOnline.com
"I am as nervous as hell," Burruss said before the curtain came up.
Williams, playing Burruss' sister in the play, surprised the housewives by rising to the occasion with her strong singing and acting.
In the musical, the mother character offered the Todd Tucker character an apology.
Article continues below advertisement
"We can make the happy ending happen in real life," Burruss insisted to Bravo's cameras.
Backstage afterwards, Mama Joyce said a polite hello to Tucker's mom, Sharon.
"I loved the play," Mama Joyce told Burruss when the others left. "I know it was inspired by us. We agree to disagree."
Burruss embraced her mom (although she still hasn't given Tucker the Mama Joyce seal of approval).
But Burruss' father, Titus, did tell Kandi he was thrilled she was getting hitched to Tucker, saying, "He truly loves you and you love him."
Next week, RHOA fans will look forward to part one of the explosive reunion show, which pits Moore against Williams in the mother of all housewife fights!