Kenya Moore Tells Pregnant Phaedra Parks: 'You Will Be Picking Up Your Teeth Off The Floor'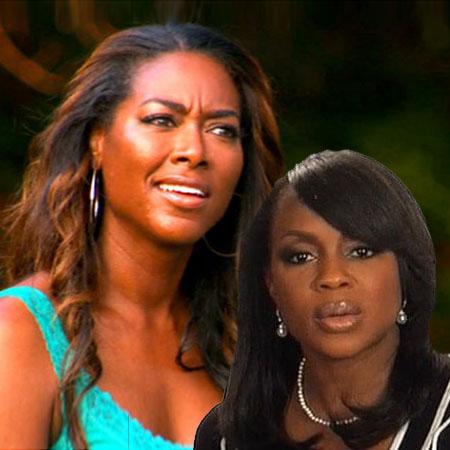 Kenya Moore's simmering feud with her Real Housewives of Atlanta co-star Phaedra Parks reached full boil during part one of the explosive Bravo reunion special on Sunday night, and RadarOnline.com has the juicy details.
Former Miss USA Kenya, who has been at odds with Phaedra since the two released rival exercise videos, predicted to the attorney if they had a fight "you will be picking up your teeth off the floor, pregnant and all!"
Article continues below advertisement
The rest of the Atlanta housewives, including NeNe Leakes, Cynthia Bailey, and Kandi Burruss looked on in shock as Kenya and Phaedra's hatred took center stage.
During the reunion special, hosted by Andy Cohen, both ladies claimed they had bigger Amazon exercise video sales -- and better bootys! Their fury became intense as they traded barbs, with Kenya calling Phaedra "overweight," a "hater" and a "liar." She even told her point blank, "You are an evil little devil" and chanted, "liar, liar, pants on fire!" Kenya told Cohen that although it appeared that Phaedra had decided to do an exercise video first, "I didn't steal her idea."
But Phaedra, who is expecting a baby with husband Apollo Nida, gave as good as she got, as she dissed Kenya's acting career and looks, labeling her a "silicone Barbie." Eight months pregnant Phaedra fumed, "You've got a fake boyfriend, a fake house--nothing's original about you, darling!"
Meanwhile, Kenya had also clashed all season with fellow housewife Porsha Stewart and more fuel got tossed on that fire during the Bravo reunion. Porsha implied that Kenya had resented the fact that she was younger and married: "I think she was jealous from the moment she met me."
Article continues below advertisement
But Kenya blasted Porsha as "unrefined" and said of Kenya's marriage to Kordell Stewart (who recently filed for divorce) "That's not a marriage I would ever want to have." Kenya also raged, "She insulted me and my age."
Later, Porsha struck back, saying to Kenya, "You're so bitter and aggressive, it's ridiculous." And she laughed at the older woman for continually fanning herself during the reunion show and drying out her contact lenses!
On a more somber note, Kenya complained that during her breast cancer scare, she didn't get much support from her Real Housewives cast mates--and wanted viewers to know: "I am cancer free, but every six months I have to get checked."
Still, Kenya, known for saying she's "Gone with the Wind fabulous" and comparing herself to Beyonce, had reason to gloat on the reunion special that the singer had borrowed the catch phrase after she performed at the Super Bowl, proving she was a Real Housewives of Atlanta (and Kenya) fan!
Watch the video on RadarOnline.com
Although part one of the reunion ended with Kenya and Phaedra baring their claws, that's not all. Next week, the reunion will continue with Kim Zolciak joining the group -- and the fur should fly between her and Kandi Burruss, who filed a lawsuit against Kim over "Tardy for the Party" song royalties. Stay tuned!