Kenya Moore Blasts Phaedra Parks: She's Fake!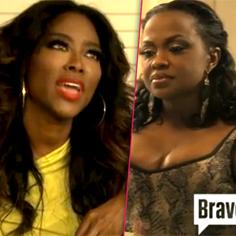 Although Kenya Moore tried to end her feud with co-star Phaedra Parks on Sunday night's episode of The Real Housewives of Atlanta, the apology didn't go over well.
When Moore tried to apologize for texting her husband Apollo Nida, Parks whipped out her breast pump and ignored the former Miss USA.
After the episode, Moore took to her blog, ranting about Parks' bizarre behavior.
"I have never seen any genuine emotion from Phaedra -- no tears, no anger, no pain… even when her child was born she's never exhibited any vulnerability whatsoever. I've only seen her make snide behind-the-back remarks and a slew of hateful lies... All reasons why it's easy to say she is fake," Moore wrote on her official Bravo blog.
Article continues below advertisement
Earlier this season, Parks confronted her husband about the alleged "flirty texts" he received from Moore.
Although Moore denied that she'd propositioned Apollo, she felt the need to put an end to the sexting rumors.
"When I tried to have a productive conversation and make amends with Phaedra in order to move past our tumultuous and contemptuous past, she behaved in her typical passive aggressive manner.
"Let's be crystal, I don't need her friendship. I'm not sorry I did it either. These moments show you who someone really is and you just have to believe it when they do. Done," Moore finished.
Watch Kenya and Phaedra's awkward confrontation below: