Kendra Wilkinson Insane Four-Letter Tirade Against Coach Caught On Camera!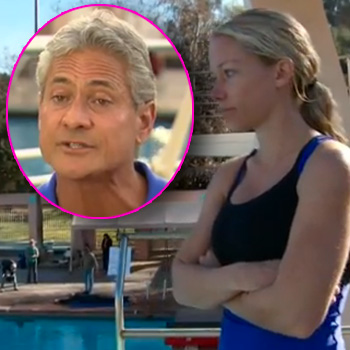 Kendra Wilkinson's relationship with her Splash coach Greg Louganis has taken a nose dive, and RadarOnline.com has the video.
The Playboy Playmate unleashes a tirade of mega proportions in a clip from ABC's new reality show after Louganis challenges Kendra, 27, to jump from a three-meter board.
"I know Greg is the best diver of all time," Wilkinson says in the season premiere.
"Everybody would probably be pissed at me if I talked s**t about him, but guess what? I'm talking s**t about him. I don't like him."
Article continues below advertisement
Louganis had previously called out the buxom blonde, insisting she was putting on "an act" about her fear of heights.
"What the f–– do you think you're telling me right now? That I don't have a f–– fear of heights?" Wilkinson screams.
"I'm sick of you picking on me, Greg … I'm working on me, not you. Tell America right now that my fear of heights is an act."
As RadarOnline.com previously reported, photographers caught the model struggling with her training and launching a vicious tirade at Olympic gold medalist Louganis back in February.
Watch Kendra's meltdown on People.com here.