Catfight In Calabasas! Kylie Jenner Calls Big Sister Khloe K. A 'Fake B*tch!'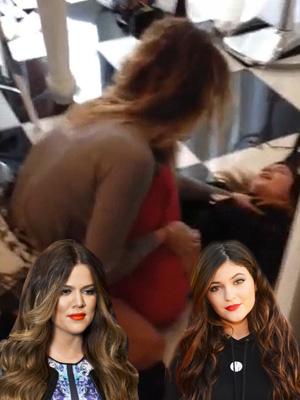 It's all fun and games until someone gets hurt!
Kylie Jenner and Khloé Kardashian got into a playful sisterly scuffle at their home in Calabasas, Calif., which sister Kim Kardashian posted in a pair of videos on her Keek page Tuesday.
In it, the reality stars clumsily wrestled for control of one another on the floor, with the diminutive Kylie gaining a surprising edge over her bigger sister.
Article continues below advertisement
"Ow! You're abusive! My knuckles are bleeding. Stop! Ow! Get off me," Kylie told Khloé, who replied, "You're on me, first of all."
Finally the skirmish ended, with Khloé saying, "You're done? I got body make-up all over you? That's what you get!"
Kylie, 16, responded, jokingly calling her older sister, 29, a "fake b****" as she walked away.
Watch the video on RadarOnline.com (Warning: Language Is Explicit)