Kelsey Grammer Flaunted Mistress Backstage On Broadway While Still Married To Camille Grammer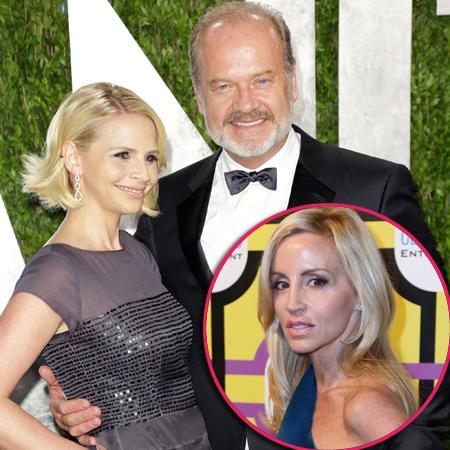 Kelsey Grammer may have played a shrink on Cheers and Fraiser, but he was no shrinking violet when it came to hiding his affair with his then mistress Kayte Walsh ( who's now his wife) when he was still married to Real Housewives of Beverly Hills star Camille Grammer.
Broadway legend Harvey Fierstein – appearing Tuesday night on Bravo's Watch What Happens Live – said he often saw a woman backstage in Grammer's dressing room when the two starred together in the hit musical, La Cage Aux Folles, on the Great White Way.
Article continues below advertisement
Responding to a caller's question about what he thought about Camille, Fierstein diplomatically replied, "(She) was always lovely to me… A lovely lady who was always lovely to me, who I wish every happiness in the world."
Host Andy Cohen then took the conversation one step further by asking Fierstein if he knew "something was splintering in that relationship at the time."
Fierstein sheepishly replied, "There was a woman in the dressing room…"
"And it wasn't Camille Grammer," Cohen interjected.
"It wasn't Camille…" Fierstein mumbled under his breath.
Kelsey and Kayte -- who worked as a stewardess for Virgin Atlantic -- met on a flight to New York, while Kelsey was still married to Camille, his third wife.
During an appearance on Jimmy Kimmel Live in January 2012, Kelsey accidentally let it slip that he spent a "magical night" with Walsh in December 2009 – which was six months before his split with Camille!
Article continues below advertisement
VIDEO: Brandi Glanville: 'I'm Not A Slut…Or A Stupid B*tch!'
Kelsey and Kayte married in February 2011 -- a mere two weeks after his divorce from Camille was granted. (Kelsey and Kayte had a baby girl named Faith in July 2012.)
(Fun fact: Grammer, 58, has been married four times and has five children and one grandchild.)
Earlier this week – on Monday – Camille happened to appear on Watch What Happens Live – and was asked about her relationship with Kelsey.
She revealed that despite the couple having two children together, the former couple still doesn't speak – at all.
"It still is what it is, we don't communicate… It's very hard to co-parent without any communication whatsoever, but I'm hopefully that sometime we can communicate… It would be better for our kids I think.. No contact at all… It's the oddest thing… He was my best friend for 14 plus years.. The love of my life."
Camille also revealed she's "conflicted" about leaving Real Housewives of Beverly Hills.
"It's going to be sad," she told Andy. "I'm going to miss the girls and the production team and being a part of it, but I needed to take a break from the drama. I have enough drama in my personal life."
Watch What Happens Live airs Sundays through Thursdays @ 11/10c on Bravo.