Old Feuds Die Hard, As Kelly Osbourne Tells Lady Gaga, 'Eat My (Bleep)!'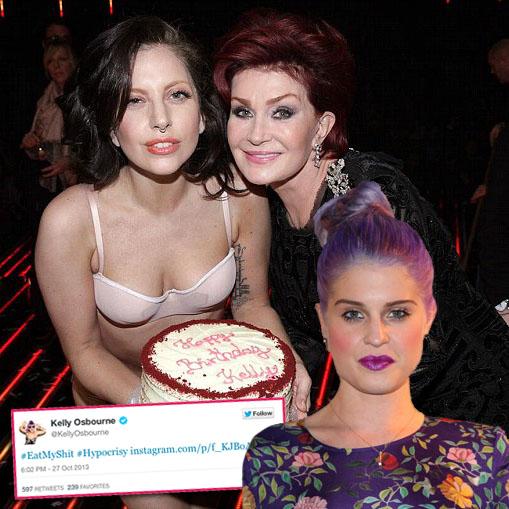 We'd advise Lady Gaga not to go trick or treating by Kelly Osbourne's place this week.
The Fashion Police star was in no mood to end her four-year feud with the hit-maker Sunday, after the "Just Dance" singer made nice with her mother Sharon on The X Factor, giving the elder Osbourne, 61, a birthday cake for her daughter, who turned 29 Sunday.
While Sharon wrote that she was "blown away by Lady Gaga's performance and graciousness," Kelly's response had a decidedly different tone.
Article continues below advertisement
"Eat my s**t," she wrote on Instagram along with a picture of the cake, calling the pop superstar "hypocritical" after numerous instances of her devout fans -- i.e., the "Little Monsters" -- bashing Kelly on her social media pages.
Watch the video on RadarOnline.com
Kelly continued, tweeting "Not to be ungrateful but why would you send me a birthday cake via my MOTHER in a country half the would away? #JustSendItToME #LoveNotWar … #StefaniStopIt!
"You are so far behind you think you are first! I live for a #Cause not for the #Applause!!!!!!!"
The Telephone singer, in response to Kelly's anger, tweeted, "I didn't know it was your B-day until this afternoon. Meant as a peace offering. Happy Birthday."
And when her fans started turning the guns back on Kelly's social media pages, she told them to settle down.
"Monsters, please just focus on the positive of tonight's performance and do not send any hateful messages," Gaga wrote. "I don't support it. #SpreadLove."
Readers, your thoughts: Was Gaga's gift to momma Osbourne a passive-aggressive jab, or is Kelly being petty about the situation?