'We're Trying, Trying, Trying... Like Rabbits!' Kelly Clarkson TMI Confession To Jay Leno About Pregnancy Planning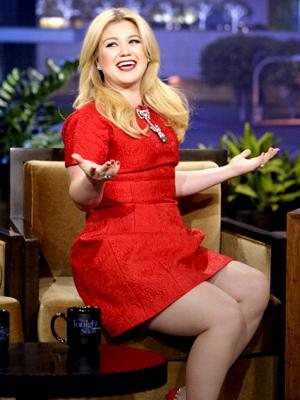 Article continues below advertisement
The former American Idol winner says becoming a step-mother to Brandon's children from a previous relationship - Savannah, 11, and Seth, seven - has made her want more maternal than ever.
She said: "We have two kids. And they're so great. And I never wanted kids before, but now I want, like, five."
However, Kelly fuelled rumours she might already be expecting her first child when she refused to give a direct answer to Jay's questions.
The host probed, "Are you pregnant now?" prompting Clarkson to ask, "What are you saying?"
Referencing his chat show rival Elle DeGeneres, Jay insisted: "I always get these stars who come on and go, 'I'm thinking about having a baby,' and then the next week they go on Ellen and announce it there. So I'm asking you, 'Are you pregnant? Remember - you're under oath!' "
Kelly - who wed music manager Brandon in Tennessee last month - coyly replied: "We are not announcing anything right now!"