She Could Have Been Wife Number 8! Katie Couric Dishes On Awkward Date With Larry King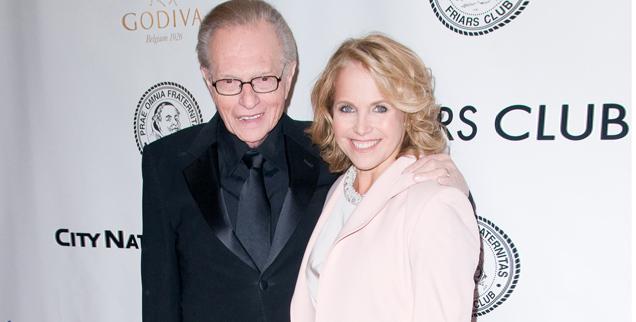 It's hard to imagine that Katie Couric and Larry King could have been a couple!
Years before the 56-year-old talk show host married her late husband, Jay Monahan, in 1989, she went out with none other than a then single King, and she relived the awkward details of their disastrous date on Jimmy Kimmel Live on Thursday night – and RadarOnline.com has the juicy details.
Couric reveals that she met the legendary broadcaster, 23 years her senior, at a party when they were both living in Washington D.C. and he asked her out.
Article continues below advertisement
"So I was about 30 years old and I was going through this period of my life where I was like 'I am going I am going to go out with anyone who asks me because you learn something every time you go out with a new person,'" she explains chuckling.
"He picks me up from my apartment, and he was driving a Lincoln town car," she continues. "We go to this Italian restaurant. They put us right next to each other like they do all the men and their 'nieces' ... and he ordered veal poached in chicken stock because he had just had quadruple bypass, which was hot ..."
King – who's now been married eight times - apparently thought dinner went well, so well that he didn't want to take Couric home.
"We're having a nice enough time. We're driving home and I see we're going over Memorial Bridge and that's not the way back to my apartment. So I go, 'Larry, where are we going?' He goes, 'My place.' And I was like 'Oh, mother of God. Oh God' ..."
But Couric couldn't get herself out of the situation.
Article continues below advertisement
"I was only thirty I just could not figure out how to extricate myself from it."
Couric was impressed by King's décor.
"We walk in and it's covered with proclamations like 'Larry King Day' and keys to every city in the country—that was sexy ..."
"So we sat there, and what can I say? He lunged ... and I started laughing a little bit because the whole situation was out of a bad Lifetime movie. I said, 'Larry, you are such a nice man, but I would like to meet someone a little closer to my age.'"
Watch the video on RadarOnline.com
youtube
King first discussed the date on Jimmy Kimmel Live back in 2009, but his version was different!
"We had a very nice evening and we're driving home and I thought, we're going to go up to the apartment, Katie and I, but she said 'I've got a roommate,'" he explained.
Whose version do you believe? Sound off below.