A Royal Slip! Did Kate Middleton Accidentally Reveal She's Expecting A Little Princess?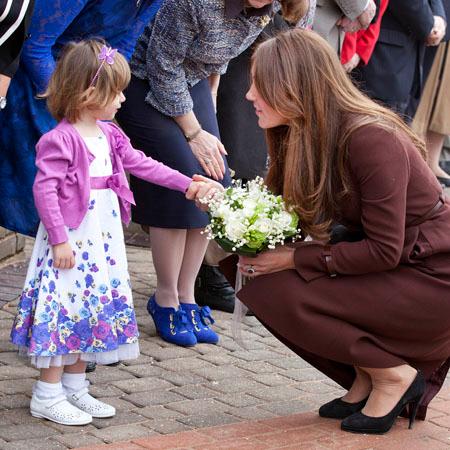 Kate Middleton's gorgeous, classy and charming -- she might not be the best at keeping a secret, however!
The Duchess of Cambridge, who's due to give birth this summer, might have inadvertently given away the gender of her child during her appearance Tuesday in the English fishing town Grimsby, where Diana Burton, one of the 2,000 fans in attendance, gave her a teddy bear for the unborn baby.
In a moment caught on camera, Kate, clad in a brown coat, said aloud, "Oh is this for our d-," just stopping short of saying the word "daughter."
Article continues below advertisement
"I only hope that she doesn't now give birth to a boy, or I'm going to look pretty stupid," Burton told Mail Online.
A woman named Sandra Cook caught the slip and asked Kate, "Did you say my daughter?"
"No, no, no," Kate said, adding, "We don't know."
Cook recalled the run-in with Mail Online, saying, "The lady next to me gave her a teddy bear and I distinctly heard her say 'Thank you, I will take that for my d-' …. then she stopped herself.
"I leant over and said to her, 'You were going to say daughter, weren't you?' She said, 'No, we don't know.' I said, 'Oh, I think you do,' to which she replied, 'We're not telling!'
"She is just beautiful and so lovely and friendly," Cook said.
Watch the video on RadarOnline.com
This past weekend, the 31-year-old beauty and her husband Prince William attended the wedding of equestrian Laura Bechtolsheimer and polo player Mark Tomlinson, where the prince served as an usher.