'Kim Is A Hobbit!': Kanye West Bound To Go Nuts Over Latest 'South Park' Spoof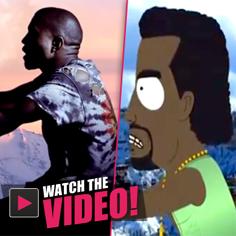 Kanye West has gotten the South Park treatment yet again.
The rap superstar, who was previously parodied by Trey Parker and Matt Stone as a "Gay Fish," returned to Comedy Central's celebrity-skewering franchise Wednesday night, as the duo recreated his latest video Bound 2, and we've got the highlights for you.
The show's season 17 finale cleverly worked Kanye and his fiancee Kim Kardashian -- both in cartoon form, not the actual people -- into its' storyline as the Butters character was infatuated with Kim, prompting his classmate Wendy to dub her "a hobbit" whose beauty is derived from Photoshop.
Article continues below advertisement
Eventually, Kanye returns to the cartoon after a four-year absence to defend his lady love in a bombastic speech for the classroom.
Said cartoon Kanye: "OK, first of all, I am not Aquaman, I am a recovering gay fish. Yes, I have met Aquaman, I have hung out with Aquaman, but the only thing I have in common with Aquaman is my love of the sea. Now, there have been malicious rumors started at this elementary school that my beautiful fiancé is a hobbit. That is not funny and it is not true! Yes, Kim is heavier than most of her pictures show her to be. Yes, she gets her hair lasered off her body. Yes, she has as friend named Gandalf, who happens to be a wizard."
"Oh, OK, I got it ... OK, if my fiancé Kim is a hobbit then ... how come she don't live in a hole in the ground? Boom! All y'all just got lit up! She don't live in no hole in the ground, she lives in a big ass mansion with me, in her room, which is slightly below ground!"
In the episode, he also calls himself "God," and interrupts a speech from the Pope.
Finally, Kanye expresses through song, in a Bound 2 parody, his love for Kim -- and how she's not a hobbit.