Kris Jenner 'Incredibly Proud' Of Kim Kardashian's Topless Video With Kanye West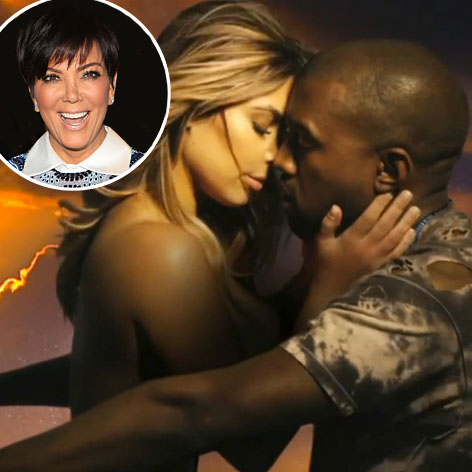 Kris Jenner is striking back at sources who said she went "ballistic" after seeing her daughter Kim Kardashian topless in Kanye West's new video.
"I am extremely proud of my daughter Kim, and also very proud of her fianc? Kanye West. He is extremely talented and incredibly artistic," Jenner told the Daily Mail.
Jenner was responding to what she called a "fabricated" story in Britain's Heat magazine that quoted sources saying the momager was upset with her daughter for taking her top off in the much-criticized video for Bound 2.
Article continues below advertisement
In fact Jenner has a long history of encouraging Kim to take her clothes off for the camera.
As RadarOnline.com reported, Kim told Harper's Bazaar that it was her mom's idea that she pose nude for Playboy!
In the Harper's interview, Kim recalls Kris saying, "Go for it. They might never ask you to do it again. Our show isn't on the air yet. No one knows who you are."
Of course, now everyone knows who Kim is and on a recent episode of Keeping Up with the Kardashians, she said that she'd consider doing Playboy again and showing off her body after baby,