Awkward! NeNe Leakes' Pal Learns Her Husband Dated Kandi Burruss AND Phaedra Parks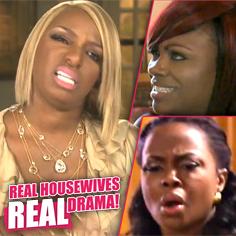 The ladies' trip to Savannah, Georgia got off to a bad start on The Real Housewives of Atlanta – and the drama continues to heat up when NeNe Leakes' NeNe's pal, Mynique Smith, discovers that her husband Chuck used to date Kandi Burruss and Phaedra Parks!
In next Sunday's new episode, things get pretty awkward when Mynique confronts Kandi about her dating history.
The personal trainer says she's aware that Chuck and Kandi dated for "about two weeks," but Kinda sets her straight and says she and Chuck were much closer than that.
Article continues below advertisement
We dated when I was like 19, and then we dated again when I was 21," she reveals.
NeNe sums it up best when she tells the Bravo cameras, "Oh my gosh. I don't think Chuck told Mynique everything and that sucks."
Mynique gets defensive and claims that her husband probably wasn't too interested because they "didn't last long."
Again, Kandi claims that she was the one who broke things off, even after Chuck got the seal of approval from Mama Joyce.
Then, Kandi drops one final bombshell – much to Kenya Moore's delight.
"I'm not the only one that dated him," she stated nonchalantly. "Me and Phaedra dated him."
See Mynique's reaction in the video below: