WATCH: Kandi Burruss' Mom Scolds Phaedra Parks For Introducing Her Daughter To Todd Tucker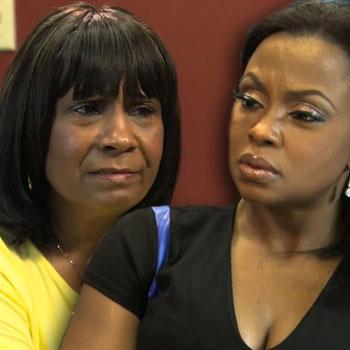 It's no secret that Kandi Burruss' mom Joyce doesn't like her daughter's fiancé Todd Tucker; now, she's blaming Phaedra Parks for introducing them, RadarOnline.com has learned.
In a dramatic preview for Sunday's The Real Housewives of Atlanta, Joyce blames Phaedra for bringing Todd, whom she believes is an opportunist, into her daughter's life.
"Why in the hell did you introduce them?" Joyce scolds. "Now, I'm going to be honest with you. With all these lawyers and everything else that you know, you gonna introduce her to one of the workers.
Article continues below advertisement
"He's little, he's short, he's got a big head. Kandi's short. Hello, two short people with big heads -- you don't introduce two short people with big heads!" Joyce rants.
Speaking to the cameras, Phaedra defends herself: "When I introduced Kandi and Todd on our trip to Africa, I knew Todd was the perfect guy for her.
"He's as cute as a button, smart as a whip, and I knew they'd make a very cute couple."
During the visit, Joyce also digs for legal advice and asks about a prenup, which she wants Kandi to get before marrying Todd.
"I was talking with them at dinner, and Todd said he didn't know nothing about no prenup," Joyce tells Phaedra.
"If something were to happen in the next two or three years…" she trails off before revealing that Todd wouldn't sign the prenup.
See Phaedra's reaction in the new RHOA preview below: