WATCH: Kandi Burruss' Mama Joyce Threatens Assistant In Obscenity-Laced Voicemail Amid Todd Tucker Hookup Rumors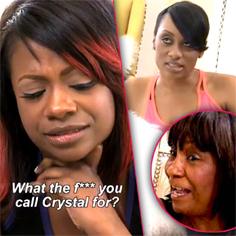 Kandi Burruss' outspoken mother, Mama Joyce has been waging a brutal campaign against her daughter's fiancé, Todd Tucker during the current season of The Real Housewives of Atlanta.
Well, she's back again in Sunday's all new episode – and this time she's ready to brawl with Kandi's best friend Carmon, whom she thinks has been hooking up with Todd behind the housewife's back.
In the preview, Carmon sits down with Kandi and reveals their associate's girlfriend, Crystal, has been spreading the infidelity rumors, claiming Kandi caught the pair mid hook –up.
Article continues below advertisement
"Anyone who believes that dumba-- story needs their a— whooped!" Kandi says. "Oh, lord have mercy."
Carmon reveals that she called Crystal to clear the air, but as soon as they hung up, Mama Joyce stepped in and left Carmon a very shocking voicemail.
Kandi cringes as her mom's threatening voicemail is played.
No Talent, No Problem: 25 Stars Who Are Famous For Doing Nothing At All
"What the f--- you call Crystal for? You know that sh-t damn true, but I'll tell you one thing. You put your hand on that girl, I'm going to drag your a—up and down the damn street like you was a damn rag," Mama Joyce threatens.
"I wish the hell you would put your hands on that girl, you old lowdown heifer!"
Listen to the voicemail and see Kandi's reaction below: