JWOWW Takes The Plunge, Gets Engaged On Reality Show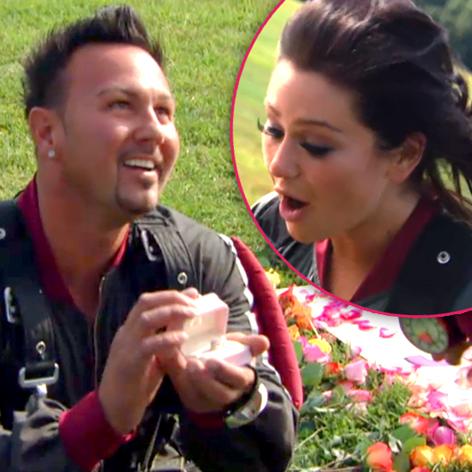 JWOWW took to skydiving on Tuesday's edition of Snooki & JWOWW only to be met on the ground by her boyfriend Roger, who proposed marriage to her after the long, fast fall.
It took Roger lots of convincing and cajoling to get the 27-year-old beauty to agree to the feat, as she admitted that "just thinking about it makes me nauseous. (Skydiving, not marriage.)
"I don't want to go skydiving because I accept my fears … I don't like heights," Snooki's second banana said prior to the stunt. "I'm so scared of this -- I feel like I want to pass out and wake up when it's over."
Article continues below advertisement
Roger knew his plan was a risky one, saying that "a lot could go wrong" between trying to get JWOWW to make the leap, and rigging up his romantic proposal just perfectly. Still everything came together just perfectly, as a petrified JWOWW saw an elaborate floral display he put together asking for her hand in marriage, coupled with a seven carat diamond ring.
"I love you more than I can ever imagine," he told her when she landed. "I want to spend the rest of my life with you … will you marry me?"
"Yes, that's my ring," she responded, still punch drunk from the dive. "I'm shaking, I've just jumped out of a plane, right now I feel like the luckiest girl in the world. I have the perfect man, the perfect engagement, the perfect ring. I've never owned anything this nice."
Earlier, in the episode, Roger teased JWOWW with a limo, a fancy dinner and other hints he'd be popping the question, but never got around to it untill the sky fall.
"My fairytale came true. Today was amazing, it was perfect it was special … I never thought I would be this lucky in love -- especially with a guido from the shore," JWOWW said at the end. "Today has been one of the best days of my life … it went from extreme, pure fear to the best day ever, ever, ever."
Get More: