Exclusive
'Pull Your Pants Up, Boy!': Justin Bieber Nearly Moons Shocked Fans At Singapore Concert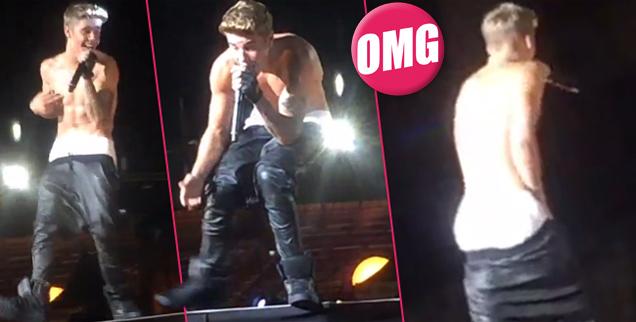 Justin Bieber returned to the stage in Singapore today after a six-week vacation from his Believe world tour. That break apparently did not include any belt-shopping: The singer's notoriously baggy pants were riding lower than ever before during the show, stunning fans who wrote 'He nearly mooned us!'
Instagram user Tanisha Manocha posted a video from the Singapore show and wrote, "Justin Bieber in #Singapore! He nearly mooned us! Pull your pants up boy!"
Article continues below advertisement
Watch the video here:
Other fans weighed in on Twitter. "I really like yr songs n u looked great at F1 concert," @jeanniemomo wrote. "But I couldn't decide whether to help you pull your pants up or down!"
User @ohsumee loved the fashion choice, writing "YOUR PANTS SHOULDVE JUST dropped c'mon babe they were so f*****g low why didn't it drop."
This isn't the first time Bieber has graced fans with a glimpse of his butt cheeks. He flashed his underwear in yet another pair of baggie-bottomed pants in Jacksonville, Fla., back in August, as RadarOnline.com reported.
Do you think he looked hot or hilarious? Watch the video and let us know in the comments!