Pottymouth! Ravens QB Joe Flacco Drops F-Bomb On Live TV After Super Bowl Win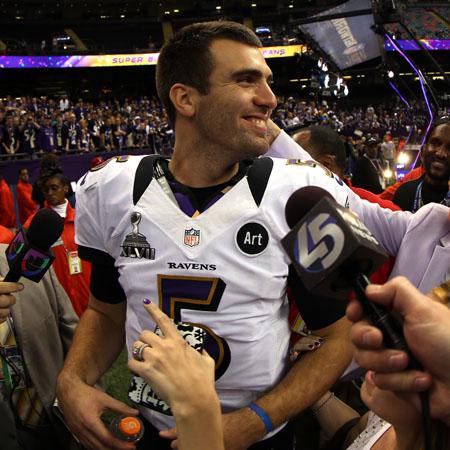 Baltimore Ravens quarterback Joe Flacco cursed on live television after his team's 34-31 win over the San Francisco 49ers in Sunday night's Super Bowl, and we've got the clip for you right here on RadarOnline.com.
CBS cameras tracking Flacco just after the win clearly caught him saying "F***ing awesome!" to a teammate.
Of course, the star passer's slip-of-the-tongue received pickup on Twitter, where comics Arsenio Hall and George Lopez were among those who noticed the faux pas.
Article continues below advertisement
WARNING: Video contains graphic language
Flacco had quite the night in New Orleans, winning the game's MVP honors after passing for 287 yards and three touchdowns.
Fun fact: Other famous faces to swear on live TV include Tom Hanks, Shaquille O' Neal and Mike Tyson.
youtube