Jodi Arias 'Won't Let Travis Rest In Peace,' Blasts Prosecutor Juan Martinez During Closing Arguments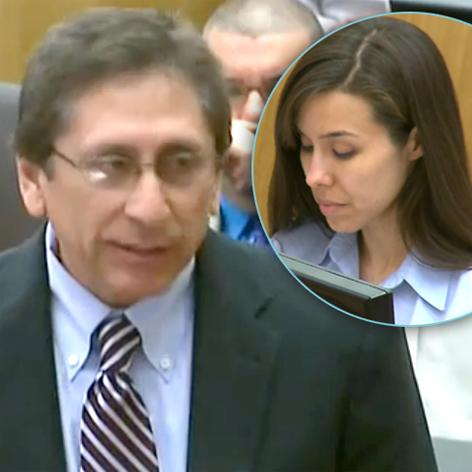 The closing arguments in the Jodi Arias death row murder trial got off to an explosive start as prosecutor Juan Martinez took center stage and delivered a fiery performance.
Martinez paced and repeatedly raised his voice as he reminded the jury that it was Jodi who manipulated and abused victim Travis Alexander, not the other way around. "This individual, the defendant, killed Travis Alexander," he began, accusing the defendant of lying since the trial began on January 2nd.
Article continues below advertisement
"Even after stabbing him over and over again, even after taking a gun and shooting him in the face, she will not let him rest in peace," Martinez said of the brutal attack that killed Travis on June 4, 2008..
"Now instead of a gun, instead of a knife, she uses lies. She uses these lies in court when she testified to stage the scene for you like she did for the police.
"It is clear in this relationship, there was stalking behavior from the very beginning," he said, while accusing Arias of "preying on Mormon boys," and pointing out that Travis told his friends he was afraid of Jodi's obsessive actions and that fact indicated premeditation.
Martinez must prove premeditation to get a first-degree murder conviction.
The attorney's forceful manner as he hammered the brutality of the gruesome crime brought Travis' sister to tears.
According to Arizona Republic reporter Michael Kiefer, Martinez quoted some of Travis' most memorable messages to Jodi in his closing argument, including: "I'm little more than a dildo with a heartbeat for you," and "you are the worst thing that ever happen to me."
Article continues below advertisement
"No one can dispute that those are the truest words that are spoken in this case, and they are spoken by Mr. Alexander, even thought he is not here, through his writing," said Martinez. "Any doubt that that's the truth? Do we need to look at the pictures of his gashed throat? Do we need to look at the sort of frog-like state that she left him in, all crumpled up in that shower?"
Martinez said that Arias' actions proved the killing with planned.