Jodi Arias Dresses Like & Mimics Her Attorney During Trial – Watch The Bizzare Video!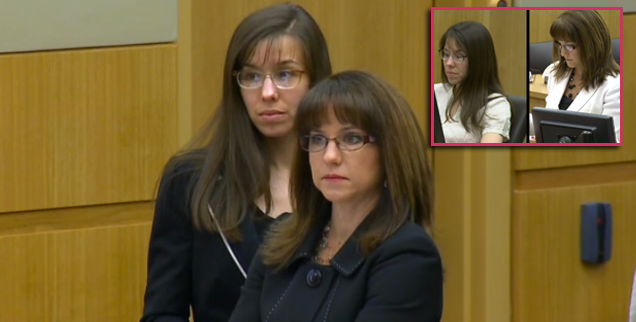 The Jodi Arias murder trial has been full of twists and turns, but leave it to Dr. Drew Pinsky to reveal the strange, if not downright bizzare similarities between the admitted killer and one of her attorneys, Jennifer Willmott.
On his nightly show, Dr. Drew On Call, on HLN this week, Pinksy points out how Arias and Willmott not only share a common hair style, but both wear glasses and often dress alike. Furthermore, Arias often will mirror her lawyer's hand gestures.
Article continues below advertisement
Dr. Drew aptly calls it, "The Patty Duke Show," referring to Duke's classic 60s sitcom in which she played cousins who look like identical twins.
One of the guests on Pinsky's panel makes a point about Arias, saying: "She's morphed into her attorney. What does that tell you about her?"
"Look at the way they move in the same way. I mean it's bizarre," Dr. Drew interjects. "It's one thing to dress like her…People sort of mirror when they feel comfortable with somebody. But to actually get to the point where you're actually moving precisely like that person…"
Another member of the panel then offers this fascinating possible explanation, saying: "The defense team did a great job of hiring a jury consultant to instruct them on how to dress her to give the jury the subliminal message that you can trust her because she looks like her lawyer.. Once she was looking like a schoolmarm with her glasses… I think that's what it's about."
Watch the video on RadarOnline.com
While Arias has admitted stabbing her on/off again lover Travis Alexander 29 times, slitting his throat and shooting him in the face in his Mesa, Arizona apartment on June 4, 2008, she claims it was in self-defense.
She's pleaded not guilty to first degree murder. If found guilty, she could receive the death penalty.
Dr. Drew On Call airs Monday through Fridays at 9 p.m. ET/ PT on HLN.