Jodi Arias Prosecutor Goes Head-To-Head With Domestic Violence Expert In Angry Courtroom Standoff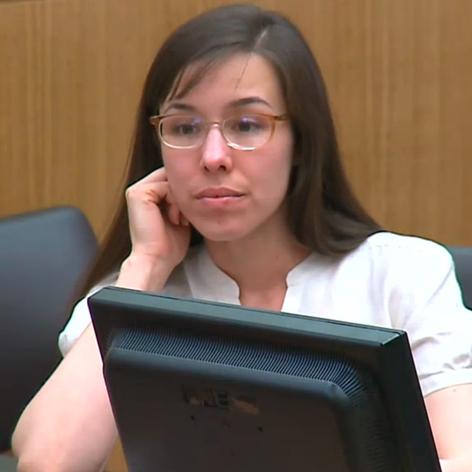 There are no good feelings between prosecutor Juan Martinez and defense domestic violence expert witness Alyce LaViolette, and Monday's testimony in the bombshell Jodi Arias death row murder trial was filled yet again with angry altercations and fierce cross examination.
After a delay due to a closed-door meeting with the defense that was rumored to be yet another motion for mistrial by Kirk Nurmi for prosecutorial misconduct, Judge Sherry Stephens kicked off the proceedings in the Maricopa County Court in Phoenix, Arizona, by asking if booted Juror 5 had called anybody.
Article continues below advertisement
As RadarOnline.com previously reported, Meliha Omanovic was dismissed from the jury last week on the grounds of misconduct but then surprisingly appeared back in the courtroom as a spectator on Thursday, much to the annoyance of the judge.
Once testimony had finally resumed, the hot topic was the chart of aggression that LaViolette used in her earlier testimony.
"I used it to look at the range of domestic violence. So in that way I looked at it. I am not someone who just lumps a diagnosis, and as I was very clear about – this is a range and it's a continuum. If you use it in that way, it is a framework and something that I think about," she explained.
"So nothing in 558 applies in this case? Is that right?" attacked Martinez. "You've totally mischaracterized what I've just said," she replied, firmly standing her ground.
When asked by Martinez if the court wants to talk about the defendant's case and how you reached your assessment, by necessity, "We can refer to exhibit 558 right?," LaViolette conceded: "In a limited way, sure."
The battling pair went on to dissect victim Travis Alexander's relationship with other women, most notably one who she pinpointed as "vulnerable" and anorexic, based on text messages she read between them, according to Arizona Republic reporter Michael Kiefer from inside the courtroom.
Among the texts between Travis and the mystery woman, he not only asked her to send photos of herself in a bikini, but also mentioned his stalker – who we now all know was Jodi, the murder suspect standing trial for his violent June 2008 death.
The trial continues, stay with RadarOnline.com for regular updates and daily live-streaming.