Jodi Arias Prosecutor Dubs Defense Expert Witness 'A Human Lie Detector'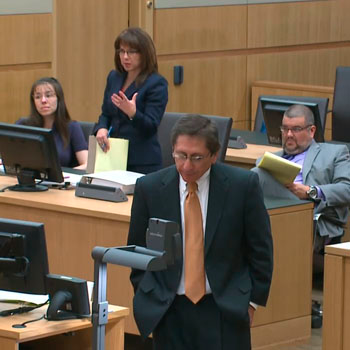 The bitter courtroom war of words between prosecutor Juan Martinez and expert defense witness Alyce LaViolette got even more nasty on Tuesday as the sharp-tongued attorney sarcastically called her "a human lie detector."
The scathing comment was a direct response to his opinion that Jodi Arias blatantly lied to LaViolette from the onset of their interviews about the violent death of Travis Alexander in June 2008.
Article continues below advertisement
It set the theme for the day's testimony of "truthfulness."
GRAPHIC PHOTOS: New Crime Scene Images Revealed In Jodi Arias Murder Trial
To prove his point, Martinez played a clip in the Maricopa County Courtroom of the police interrogation interview of Jodi's father, William Arias, where he revealed his daughter hadn't been honest with him since age 14, according to the Arizona Republic.
To which LaViolette, a domestic violence counselor, replied she wouldn't make a decision based on a soundbite. Instead, LaViolette insisted she would evaluate.
It was a day of high drama. At one point, Martinez even shouted at the subject of his cross-examination.
"Don't look over there, I'm asking the questions!" he said defiantly when LaViolette's attention drifted to the defense table.
"Was Arias manipulative with men?" Martinez went on to probe.
She was only friendly with the good-looking ones, like victim Alexander, LaViolette testified.
"She was flirtatious with them. I don't know if she was manipulative," she said.
At the end of testimony, the judge announced that the epic trial will now be in session for three upcoming Fridays as it moves toward a fourth month.
Watch our live-stream each day as RadarOnline.com provides gavel to gavel coverage.