Jodi Arias Prosecutor Accuses Defense Key Witness Of 'Having Feelings' For The Murder Defendant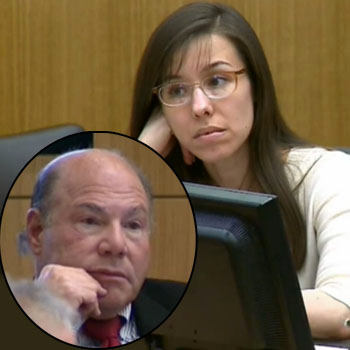 Psychologist Dr. Richard Samuels will no doubt be relieved that his marathon run on the stand at the Jodi Arias trial is finally over, especially after the bitter verbal beatdown that he received at the hands of prosecutor Juan Martinez on Monday.
The bull dog attorney accused Samuels outright, "You have feelings for the defendant, right?" during the afternoon testimony of the murder trial relating to the brutal June 2008 death of Travis Alexander.
Article continues below advertisement
"I beg your pardon, sir!" retorted the defense expert witness in shock at the suggestion that his relationship with Arias is inappropriate.
The aggressive statement was yet another move by Martinez to continue to undermine the diagnosis of Post Traumatic Stress Disorder for the femme fatale killer and discredit Samuels' expertise in light of the fact that Jodi began their interviews by lying to him about how Travis was killed.
The prosecutor threw a curveball into the mayhem on Monday by dropping the bombshell that Jodi had a history of beating her mother. "When she was a teenager, isn't it true that the defendant had such anger toward her mother Sandy, that she treated her like crap," asked Martinez. "Yes," replied Samuels.
"And isn't it true that they argued all the time, right?" came the next question, which again was confirmed. "And isn't it true that during that time, the defendant hit Sandy for no reason?" Again, the answer was "yes," before claiming that it was irrelevant to the PTSD diagnosis.
Article continues below advertisement
The parental abuse revelation was a dramatic turn of events in light of that repeated claims that Jodi made earlier in the trial that her mother actually used to beat her, most often with a wooden spoon.
Despite their alleged tumultuous relationship, Jodi's long-suffering mother has attended every day of the trial since January, sitting quietly in the Maricopa County Courtroom letting the explosive proceedings wash over her.
Once Samuels was gratefully relieved of his duties, domestic violence expert Alyce LaViolette took the stand to provide her expertise on anger management and why abused women return to the men who wronged them.
The trial continues, stay with RadarOnline.com for regular updates and daily live-streaming .