Travis Alexander Asked Jodi Arias To 'Rip Out The Page' Of Her Journal Detailing Alleged Abuse, Claims Expert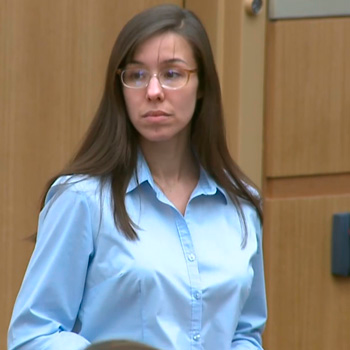 Testimony in the Jodi Arias trial was cut short yet again Wednesday due to illness but this time it was the defense's expert witness who pleaded poor health, not the controversial murder defendant.
Before she was sent home sick, domestic abuse counselor Alyce LaViolette told the Maricopa County Court how victim Travis Alexander had asked Jodi to hide details of their alleged abusive relationship from even her personal diary.
Article continues below advertisement
"Miss Arias is talking about Mr. Alexander looking at her journal and wanting her to rip out the page where she really gets specific about some of the things he's called her and some of the things he's said to her," LaViolette alleged. "So she complies and rips out the page, she also talks about how words can be as hurtful as being hit and she says sometimes that can take longer to heal."
The manipulation of her now-notorious journal by omitting the hurtful things Travis allegedly said and "forgiving and forgetting" his alleged abusive behavior revealed how controlling the devout Mormon was over Arias — even going so far as controlling her private thoughts, LaViolette claimed.
Wearing a long sleeved, light blue button-up shirt, Arias continued her lifelong habit of scribbling down her inner thoughts while listening to the testimony on Wednesday, according to Arizona Republic reporter Michelle Lee from inside the Phoenix, Arizona, courtroom.
As LaViolette described how battered women feel shame and blame when they cross their own bottom lines, the 32-year-old defendant broke down in tears, which is far from the first time she has publicly sobbed since the marathon trial began on January 2.
Article continues below advertisement
The domestic violence expert went on to reveal that by February 2008 – just four months before she butchered Travis by shooting him, stabbing him 29 times and slitting his throat from ear to ear – Arias was finally "gaining a little steel in her backbone" and learning to stand up to him.
Rather than the unstable femme fatale and obsessive stalker that Arias has been painted as by the prosecution since the June 2008 killing, LaViolette testified that she didn't see evidence of jealousy or rage in Arias' past behavior, but rather unconditional love for Alexander.
The trial continues on Thursday, stay with RadarOnline.com for regular updates and daily live-streaming.