Jodi Arias: Judge Lifts Media Ban, Murderer Says She 'Would Be Doing Everyone A Favor' If She Died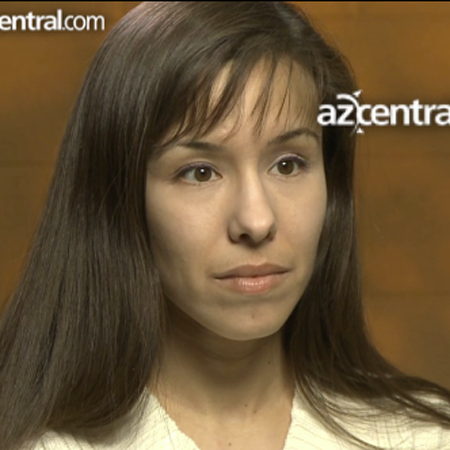 Jodi Arias has conceded her fate to a jury of her peers.
"Whatever they come back with I will have to deal with it: I have no other choice," the convicted murderer said in a jailhouse interview with The Arizona Republic, 12 News and the TODAY show, after Judge Sherry Stephens lifted a ban on her media access Tuesday.
TWITTER SCREEN GRABS: Jodi Arias Tweets About Contemplating Suicide
(While reasons were not given for the change, officials with Maricopa County Sheriff Joe Arpaio helped coordinate a series of late-night chats between Arias and the outlets. Arias, still in restraints, wore makeup for the series of talks and brought a comb in the room to primp her hair.)
Article continues below advertisement
"I don't know about the ultimate decision, but my attorneys think it will be quick." she said in the interview with AZCentral.com
While she admits she'd "feel shell-shocked" if the jury decides she should face the death penalty, she seemed indifferent should it actually happen.
"I've completely effed up my life and I think I would be doing everyone a favor," she said.
The 32-year-old, whose salacious trial has captivated the country's attention much of this year, said being found guilty on May 8 in the brutal June 4, 2008 murder of her former lover Travis Alexander "felt like a huge sense of unreality.
"I felt betrayed, actually, by the jury," she said. "I was hoping they would see things for what they are. I felt really awful for my family and what they were thinking."
Arias Tuesday told the media outlets she once dreamed Alexander was in custody with her for his own transgressions; looking back, she said she wishes she could "reach back in time and shake myself" out of the destructive relationship.
Article continues below advertisement
"I feel like there was this hook and I couldn't unhook myself," the former waitress-photographer said.
Arias said the revealing nature of the trial -- including naked pics of herself shown in open court -- left her humiliated. She said she can't fathom even being in a relationship again.
"I feel gross," she said. "I feel dirty. I don't want a relationship with anyone. I want therapy."
In a separate interview with the AP, Arias said she "deserves a second chance at freedom someday," and feels her lawyers -- Kirk Nurmi and Jennifer Willmott -- dropped the ball in their defense by not summoning more witnesses who could attest to Alexander's acts of domestic violence.
She backpedaled on her interview last week in which she said she'd prefer to die, comparing it to "assisted suicide."
"I didn't want to do that to my family," she said, citing an emotional meeting with relatives the day she was found guilty.
Arias told the AP at no time as she ever craved fame or notoriety as result of the media blitz surrounding the proceedings, noting that prosecutor Juan Martinez "has accused her of wanting to be famous, which is not true."
She said she wished she and Alexander never crossed paths "just because of how ultimately everything ended and I say that for his sake and mine -- not just a selfish thing."
Jurors will continue deliberating on the case today; stay with RadarOnline.com for up-to-the-minute details.
Watch the video on RadarOnline.com