Jodi Arias Death Penalty Witness Withdraws After Receiving Death Threats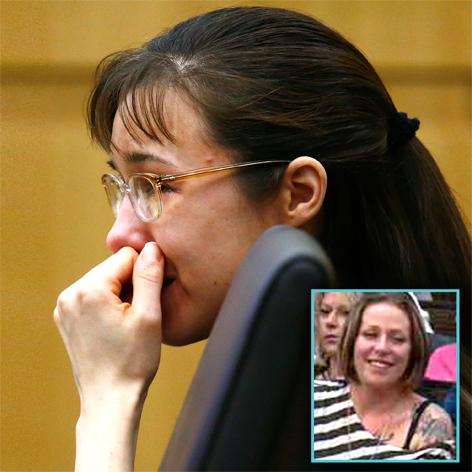 Jodi Arias' defense attorneys filed another motion for a mistrial after claiming that one of their witnesses made a last minute decision to withdraw because she has been receiving death threats.
Facing the death penalty for the "extremely cruel" murder of Travis Alexander, Jodi's plan was to have her childhood friend Patricia Womack testify on her behalf during the sentencing phase of the trial.
Womack was in the Maricopa County Courthouse on Friday prepared to testify, but counsel was behind closed door all day and she did not take the stand.
Article continues below advertisement
"However, after returning home Ms. Womack began receiving threats, threats that included threats on her life if she were to testify on Ms. Arias' behalf," Jodi's attorney Kirk Nurmi wrote in the motion according to AZCentral.com.
"On May 19, 2013, Ms. Womack contacted counsel for Ms. Arias that she is no longer willing to testify due to these threats. It should also be noted that these threats follow those made to Alyce LaViolette, a record of which was made ex-parte and under seal."
According to the documents filed, Jodi's defense team is asking for a mistrial due to the circumstances.
Patti shared photos of Jodi as a teenager with HLN's Nancy Grace and told the acid-tongued host that her friend, now a convicted murderer, "was a sweet girl."
The jury is now considering "mitigating factor" that are evidence about Jodi's character and background that may influence them not to give her the death penalty.