Jamie Foxx Recalls Best Oscar Memory With Jimmy Kimmel, Does Spot-On Obama Impersonation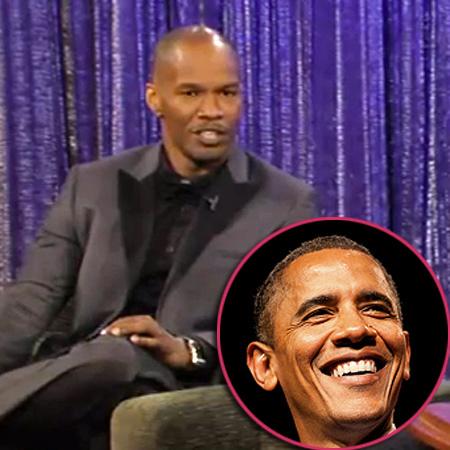 Jimmy Kimmel wrapped up Academy Awards night Sunday with a special airing of his show, welcoming White House Down stars Channing Tatum and Jamie Foxx, who experienced Oscar bliss in 2005 in capturing the best actor award for Ray.
Jamie said he was "overwhelmed" that evening, though his "pimp game was still intact, because I acknowledged Halle Berry.
"Through all the emotions, I was like, Halle, look out, girl!" he said. Foxx said he sat next to Tommy Lee Jones at the event, and kept wanting to say the phrase, "The fugitive's name is Dr. Richard Kimball!"
Article continues below advertisement
Asked if he'd be attending any post-Oscar parties, Channing said he'd probably pass because his wife Jenna Dewan is pregnant.
"Jaime will you be making anyone pregnant tonight?" Jimmy asked to big laughs.
In promoting their upcoming summer blockbuster White House Down, Foxx said that he plays the U.S. President in the film, though his character is not based on President Barack Obama. Still, that didn't stop the incredibly talented A-luster to launch into an impeccable impression of the current commander-in-chief.
After the interview, Jaime performed a tongue-in-cheek song on the piano in homage to his co-star Tatum.
Watch the video on RadarOnline.com
youtube
Fun fact: While Jimmy hasn't hosted the Academy Awards -- yet, we're thinking -- late night staples Johnny Carson and David Letterman did.
White House Down hits theaters June 28; Jimmy Kimmel Live airs weeknights on ABC at 11:35/10:35c.
youtube