Explosive Note By Late Ex Alleges Jim Carrey Exposed Her To 'Cocaine' & 'Prostitutes'
In a bombshell letter written by Jim Carrey's late ex-girlfriend, and obtained exclusively by RadarOnline.com, Cathriona White claims the actor exposed her to, prostitutes, mental abuse and disease."
Earlier this week, attorneys representing White's family in their wrongful death case against the actor uncovered an explosive note from White to Carrey during a forensic examination of her iPad.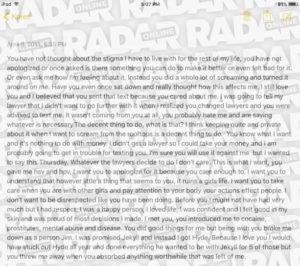 Written on April 8, 2013 at 6:55 PM, White explains in the explosive letter to Carrey how she used to be a "happy person" who "loved life," but that all changed when she met him. She says in the nasty note, "I met you, you introduced me to cocaine, prostitutes, mental abuse and disease."
Article continues below advertisement
White also makes mention of the time when she attempted to extort the actor over claims he gave her sexually transmitted diseases. In 2013, White and her lawyer Filippo Marchino threatened to "go to the press" with allegations that Carrey gave her Herpes I and II unless he paid her millions.
But in the letter White says she didn't want to comedian's money, rather just an apology. "You know what I want and it's nothing to do with money. I didn't get a lawyer so I could take your money"…"You gave me hsv and hpv, I want you to apologize for it because you care enough to. I want you to understand that however little a thing that seems to you, it ruins a girls life."
On Friday Carrey filed a cross-complaint, also obtained by RadarOnline.com, against White's family's lawsuit in which they make ugly accusations that he's responsible for the 2015 death by suicide of his former girlfriend.
Carrey states the lawsuit (filed by both White's mother, Brigid Sweetman, and husband, Mark Burton) is nothing more than an attempt to exploit the public vulnerability of a famous actor.
"Unfortunately, I made the mistake three years ago of giving in and settling false claims made against me by Mr. Marchino, on behalf of Cat, as mounting a public defense is a very costly and painful process," Carrey said in a statement, referencing the time White herself extorted Carrey years ago with the help of friend and attorney Marchino.
Article continues below advertisement
"At the time I felt Cat was being exploited by Marchino. Since this new case was filed, I have discovered the depth of deception behind those false claims, the kind of deception decent people fall for, because to us, such behavior is unimaginable.
"I will not give in a second time to these same fraudulent charges initiated by Cat's husband in name but not substance Mark Burton, and her estranged mother. Nor am I responsible for what these desperate characters have inadvertently unearthed about the the woman I adored. I was clearly blinded by my affection. Regardless, I will hold a place of empathy, and forgiveness for Cat and continue to focus on the many blessings in this life."
Last year, RadarOnline.com exclusively uncovered a blockbuster secret video of Carrey's tragic ex-girlfriend telling all about his twisted double life of alleged cocaine use which was used as a critical piece of evidence in the ugly wrongful death lawsuit.
In the video — viewed by RadarOnline.com — Cathriona described Carrey's off-the-wall behavior and cocaine use — a drug she called "sugar."
"He roller-coasters a lot. . .over Christmas I guess sugar f***ed him up," she said. "It really f***s with him, makes him really depressed.
"Then he started smoking pot, and then he kept eating more sugar, and then he was just like having these breakdowns, like meltdowns."
She concluded: "It's like 50 shades of grey, 50 f***ing million shades of Jim — and I'm 50 f***ing million shades of f***ed up because of it!"
White was found dead on September 28, 2015, four days after dying from an intentional overdose in her Sherman Oaks home.
We pay for juicy info! Do you have a story for RadarOnline.com? Email us at tips@radaronline.com, or call us at 800-344-9598 any time, day or night.