'Jersey Shore' Ronnie Ortiz Magro Gets Liposuction Plastic Surgery For 6-Pack Abs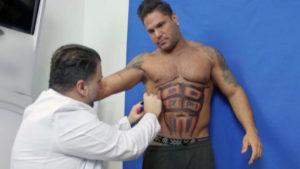 "I've always been a workout fanatic, and I've also always been in shape, but it takes a lot of hard work to stay in shape," Ronnie said in a clip from the TV show The Doctors, where he shared his plastic surgery story.
MORE ON:
Ronnie Ortiz-Magro
Article continues below advertisement
"One year ago today my life completely changed. I had a little baby girl. She's like my guardian angel, and now I can't spend two to three hours every day in the gym like I used to."
The Jersey Shore star said his priorities had majorly shifted.
"Gym, tan, laundry for me is now gym, tan, diapers."
So, he agreed to get plastic surgery to keep up with his hot body.
"Today I'm going to step out of my element and try something new with my body," he said.
Dr. Christopher Khorsandi explained the liposuction.
"We're going to do something today for Ronnie that wasn't even available ten years ago," Dr. Khorsandi revealed. "This is laser high-definition liposuction of the abdomen. We're going to be able to get that area in between each of his abs completely defined, so that he actually has a six-pack for many, many years to come."
Ronnie's surgery wasn't cheap, costing between $20,000 to $30,000 and the recovery was painful.
"I'm feeling like complete crap," he told Dr. Travis Stork on the show, revealing that since he was maintaining sobriety, he was only taking Advil for the pain.
"It has not been a good experience."