Drama Already! Jenelle Evans Fights With New Boyfriend's Gal Pal On Facebook
With Jenelle Evans, drama isn't ever far behind.
The Teen Mom 2 star, who RadarOnline.com can reveal is now in an official relationship with North Carolina welder David Eason, got into a fight with one of his female friends on Facebook last night.
In the exchange first spotted by RadarOnline.com, Eason's pal Rachel begins the feud by warning the 27-year-old dad to stay away from the medical assistant and mother of two, 23, who was last arrested for throwing a glass at baby daddy Nathan Griffith's new girlfriend in August.
Article continues below advertisement
"Because she doesn't have her state certification since she failed the exam. Because when she isn't being fabulous at a red carpet event, she's partying locally. Because she has to actually have her kids longer than 4 hours to be a mother," Rachel fumed.
"No one is perfect, but they don't have to be this train wreck either," she continued. "There's mistakes, and then there's habitual f***ups."
Evans defended herself from her own private Facebook account.
"I am a certified medical assistant now little do you know. Going back to school to be a surgical tech," she wrote. "Yeah I go to some red carpet events here and there but ultimately my focus is my future for my family and that's why I have a backup plan, so before you call someone an idiot or a bad mother maybe you should look more into their lives than judging them so quickly and harshly."
"And sweetheart say whatcha want but I'm not a train wreck anymore, it's called growing up. You should try it!"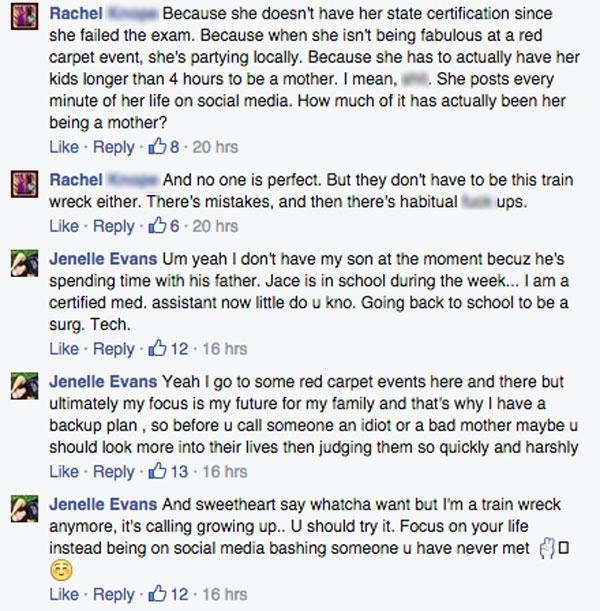 Other friends came to Evans' defense, insisting she has turned her life around since struggling with heroin addiction in 2013.
But Eason's sister Jessica didn't appreciate the debate.
"You girls can stop commenting on my lil brother's posts…Get a life people, this isn't a soap opera," she said.
While Evans has a dark past, her new man is hardly an angel. As RadarOnline.com exclusively revealed, the father of two spent three months in prison last year on larceny, breaking and entering, and drug charges.