Caught On Camera! Jenelle Screams At Her Mom In Vicious Parking Lot Fight
"Mom, you're drinking with three kids!"
That's the shocking accusation Jenelle Evans made against her mother in a new video of a verbal throwdown between the two exclusively obtained by RadarOnline.com.
In the clip filmed on Cinco de Mayo, the Teen Mom 2 star confronts Barbara Evans as her son Jace, 7, and his two cousins leave a restaurant, shouting that her mother had been drinking and was, she claimed, too drunk to drive home.
Article continues below advertisement
"You need to take a taxi home," Jenelle yells at her mother, who drops the f-word as she tells David Eason to "get that f**king camera off of me."
Jenelle insists her mother was consuming wine and pleads with her mom to let her drive the children home. "I'm just watching the safety of the children," Jenelle shouted.
"Will you stop it?" her mother begs. "I'm not drinking. I'm having dinner with my friends."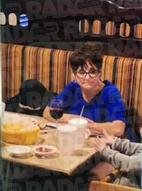 RadarOnline.com obtained a photo of Barbara at the table with a glass of wine in front of her. Barbara said in the clip, however, that she only had "one sip."
Jenelle is relentless, telling her mom, "This is unsafe. Do you realize this? What you're doing is unsafe!"
Barbara spoke exclusively to RadarOnline.com about the incident.
"I knew Jenelle was trying to set me up. She called me at 4:30pm saying she wanted to see Jace. No. It doesn't work like that. You can't just call me like that."
Article continues below advertisement
Barbara explained, "I had just sat down with my friends and had one sip of wine. I saw Jenelle standing there making a big scene. So I threw $40 on the table and got up and left. I was walking across the parking lot when Jenelle and her fiancé David Eason started filming me. They accused me of being drunk. I told them to stop filming me."
Barbara told RadarOnline.com she was shocked at her daughter.
"I asked Jenelle, 'What is wrong with you?' I knew she was trying to set me up. The kids looked at her like 'She's out of her mind.' How dare she do this to me? Her 64-year-old mother. She had the audacity to set me up," she insisted.
As RadarOnline.com exclusively reported, Jenelle has been fighting her mother for full custody of Jace for years, but lost the latest round yesterday. Per the terms of an agreement she signed, she'll get more visitation time with Jace, but her mom will retain custody.
Still, there's serious bad blood between them. After the parking lot confrontation, "I was furious with her," Barbara admitted to RadarOnline.com.
What do you think about Jenelle's fight with her mother? Sound off in comments below.
We pay for juicy info! Do you have a story for RadarOnline.com? Email us at tips@radaronline.com, or call us at (866) ON-RADAR (667-2327) any time, day or night.