'He Doesn't Care!' Jenelle Evans Calls Off Wedding To David After Blowout Fight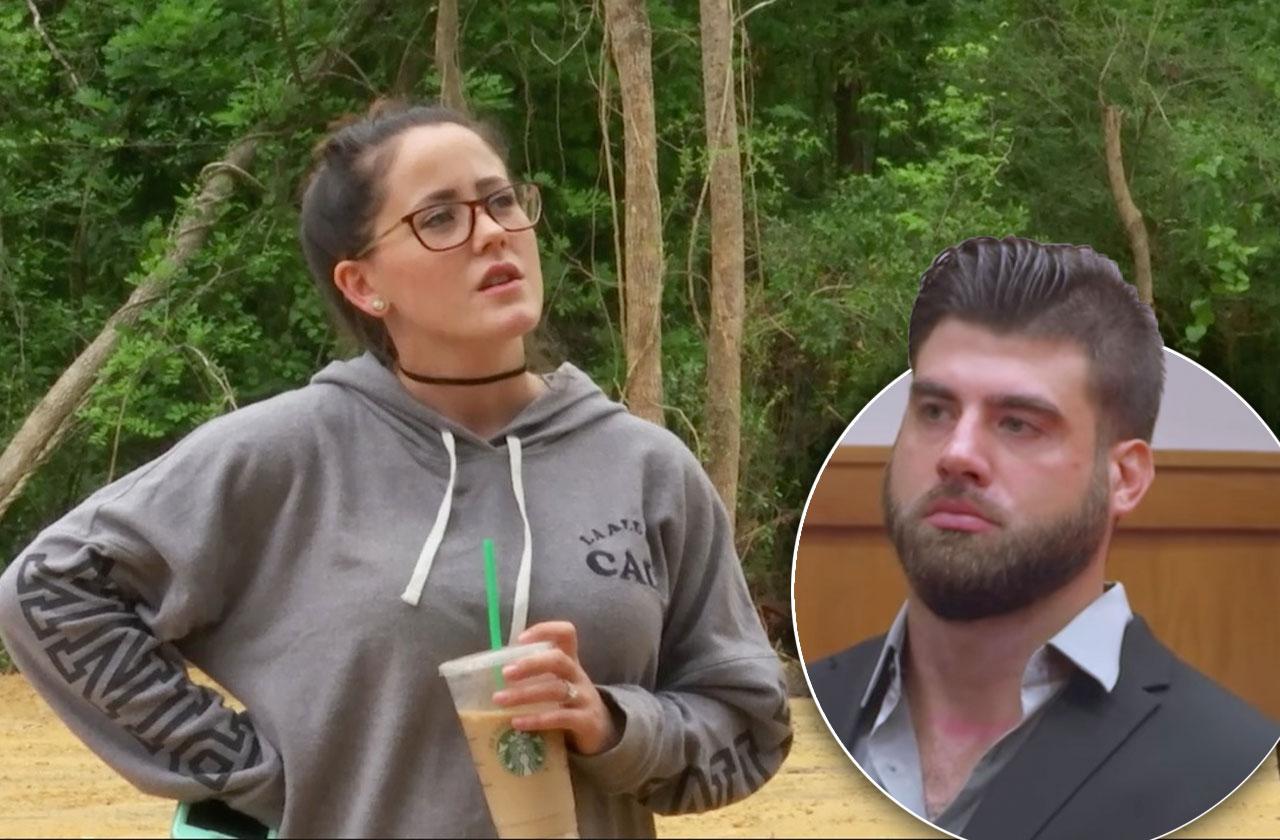 RadarOnline.com exclusively revealed in September that Jenelle Evans called off her wedding to David Eason one day before tying the knot. This week's Teen Mom 2 goes inside the blowout fight that almost ended their relationship!
On the episode, Jenelle's mother Barbara Evans broke down over being snubbed from the big day.
"Jenelle and David are getting married, they're doing this big wedding at their house and she isn't inviting me," Evans told her friend. "David has wanted this, to get me away from Jenelle. All I want is for them to get along with me."
Article continues below advertisement
But Barbara wasn't the only one who cried, as Jenelle was also upset over their estrangement.
"I'm sitting here in my own f**king head thinking of my mom all day long when I don't like that b***h," Jenelle yelled. "I don't have any f**king friends at all… I'm doing all the planning by myself. I shouldn't have to do this all by myself. I can't have five minutes to even speak to David because he won't f**king answer the phone."
When she tried to speak with David while he was laying sod, he yelled, "I'm trying to f**king work here!"
Jenelle then screamed, "Until he acts like I exist then I'm not filming anymore. I want him to talk to me. I want him to ask me what's wrong with me. He doesn't care."
Jenelle then told MTV to leave.
"I'm trying to talk to David alone," she screamed. "I'm trying to relax and you guys are in my face. You guys need to leave and leave for the rest of the f**king day."
Article continues below advertisement
Jenelle then said, "I don't even know if I'm doing a f**king rehearsal because everything is f**ked up right now. We can just cancel the whole f**king wedding."
As Radar exclusively reported, Evans was livid at her husband for working on their home all day instead of comforting her.
"You're not giving a f**k what I feel," an eyewitness claimed she screamed at Eason. "No, I'm done, you can have the ring!"
She continued, "I said for two hours I wanted him to care about me, talk to me about my mom situation. I don't have a mom coming tomorrow, he has a mom. I want his attention This is my house, and he does not give a f**k. I've been crying all day."
Also on the episode, Kailyn Lowry revealed her baby daddy Chris Lopez missed her ultrasound because he slept through his alarm. Although he hasn't stepped up as a father, she admitted she still wants him to be around for their son.
Article continues below advertisement
"I just have a lot of mixed emotions about it," she said. "Sometimes I want him to be there and sometimes I'm like f**k him after everything."
While on her way to her next sonogram appointment, she broke down in tears.
"I'm freaking out," she cried to a friend. "I'm upset because I feel like I'm about to do this by myself. He won't even pick up the phone if he's with another girl. I'm scared if I call him when I'm in labor he won't show up."
Lopez ended up attending the appointment.
Briana DeJesus has baby daddy issues as well. On the episode, she told Devoin Austin, the father of her daughter Nova, to step up financially and physically.
"You need to get your license first in order to get a better job or come here more often," she said. "That's why I've been holding off on child support because if you can't pay child support, the moment you get your license they're going to take it away from you and I don't want that for you. Then nothing changes because you can't see her."
Article continues below advertisement
Devoin agreed to pay for Nova's after school care if she doesn't file for child support.
But when it came time for Devoin to pay up the $210, he only had $60 on him. In the end, Briana decided to file for child support.
Also on the episode, Leah Messer's twin daughters Ali and Aleeah start second grade. Since Ali, who suffers from a rare form of muscular dystrophy, has an aide this year, she will be separated from her sister.
"They need to learn their own identity and they need to learn who they truly are," Leah explained. "Being separated this year is going to make such a difference. We made the mistake of putting them together too much."
As for Chelsea Houska, she picked up her wedding dress before her reception to husband Cole DeBoer.
Teen Mom 2 airs Mondays at 9/8c on MTV.
We pay for juicy info! Do you have a story for RadarOnline.com? Email us at tips@radaronline.com, or call us at 800-344-9598 any time, day or night.