Jimmy Fallon, Jay Leno Subtly Acknowledge Late Night Rumors In Monologues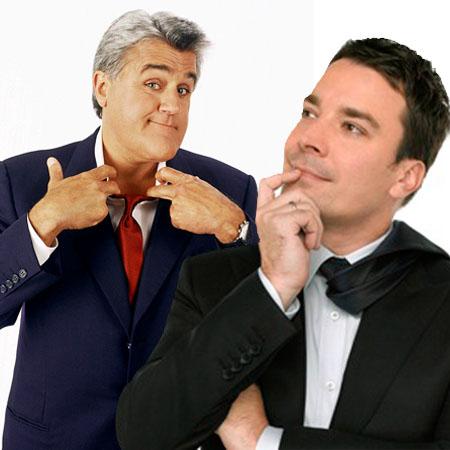 It looks like we could be in store for another round of late night drama, after news broke Wednesday that NBC plans on replacing current host Jay Leno with heir apparent Jimmy Fallon in the fall of 2014, relocating the show back to New York in the process.
Both comics responded to the rumors, with Fallon, 38, leading off his monologue saying he was going to address the rumors he'd be moving to the 11:35/10:35c slot, "or as his parents call it, 'It's still too late!'
Article continues below advertisement
"Actually the rumors are true, NBC is turning it into a diving competition -- so exciting," he said, before moving onto other topics.
Watch the video on RadarOnline.com
While Leno, 62, didn't directly address the rumors in his monologue Wednesday, he again took a swipe at the network, still reeling from last month's fifth-place finish in sweeps.
"According to several reports, scientists say they are getting closer and closer to being able to do Jurassic Park-style cloning of extinct species," Leno said Wednesday. "Imagine that -- things that were once thought to be extinct could be brought back from the dead. So there's hope for NBC. It could turn around."
While the network hasn't made any official announcements, one high-placed source told the New York Times Wednesday that "there is no way on earth that the switch is not going to happen."
NBC covets Fallon's youth, and finger on the pulse of pop culture, according to the newspaper, as he's proved his relevancy with viral bits on YouTube, and interaction with his fans on Twitter.