Vanderpump Confessions! Jax Admits Cheating On Stassi In Vegas, Got Another Girl Pregnant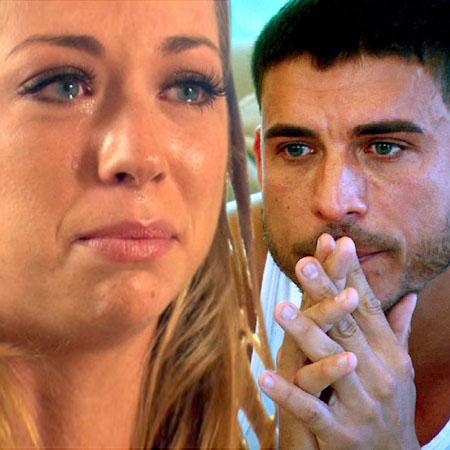 After months of lying to virtually everyone, Jax Taylor finally came clean, admitting to his ex Stassi Schroeder that he cheated on her -- and might have got another girl pregnant! -- in the dramatic season finale of Vanderpump Rules, and RadarOnline.com has all the juicy details.
"She called me up and she said, 'Listen I think I might have a problem and this is how much it's going to cost,' the bartender/model said in his shocking confession of the bottle service waitress he slept with in Las Vegas, alluding to a pregnancy.
Article continues below advertisement
"So I sent her some money and never heard from her again."
Just moments after telling Lisa Vanderpump that he would no longer be working at SUR Lounge because it just wasn't healthy for him, Jax approached Stassi with a floral arrangement and asked her to talk.
"This is going to be really hard to say. A month before everything happened, I did go to Vegas and have relations with somebody else," he confessed to Stassi.
Sobbing uncontrollably, Stassi was visually upset by his confession and mad that their friends had gotten involved in their relationship -- even siding with Jax!
"You spent the last two months lying to me, lying to my best friends, bashing them when they were just helping me and telling me the truth when you were the piece of sh*t the entire time. What did I ever do to you to deserve this?" Stassi asked him.
Article continues below advertisement
"You are an a**hole! You're not a new man, you're the same f**king liar that you always have been. I lost my friends for months because they believed you. That's how good of a liar you are."
"I'm going to disappear. You won't see me again, okay? I don't want to hurt you anymore. I feel like I got everything out," Jax told her.
"You will never hear from me again. I won't call you and I won't speak to you again."
Not only did Jax admit to Stassi that he cheated while he was in Las Vegas, but he also confessed to the entire SUR Lounge staff.
"I did cheat on her, and it was the worst mistake I ever made," he told them.
"It's like a circle with me, it's like it doesn't stop. It's the same bulls**t I keep doing."
Watch the video on RadarOnline.com
Even though the show just had its season finale, Bravo plans to air a reunion special in the near future.
Do you think Vanderpump Rules should come back for a second season? Sound off in comments below!