Way Too Young! Jamie Lynn Spears Films 5-Year-Old Daughter Maddie Swiveling Her Hips To Curse-Ridden Rap Music, Shares It With Fans: Shocking Video 'Totally Inappropriate,' Says Psychologist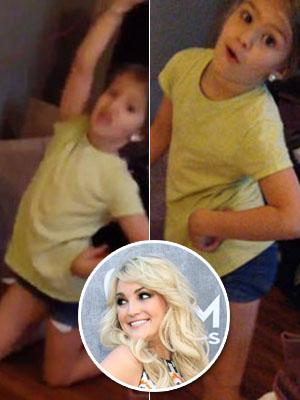 With a baby by just 17 years old, it's safe to say Jamie Lynn Spears grew up much too fast. Now it seems the country singer's daughter Maddie Briann, now 5, is following in her footsteps.
On May 21, Britney Spears' younger sister, now 23, posted a video of little Maddie shaking her hips and pumping her chest to Iggy Azalea's tune "Fancy," in which the Australian rapper brags about being a "bad b*tch" who "takes all the liquor straight" and has men "just wishing he could bite it."
Article continues below advertisement
"This video is totally inappropriate," clinical psychologist and Columbia University professor Dr. Judy Kuriansky, who doesn't treat the newlywed or her daughter, exclusively tells RadarOnline.com. "Maddie is way too young to be exposed to that type of music."
Dr. Kuriasnky believes Jamie Lynn's choice to play adult music around her little girl could have lasting effects.
"Maddie could start repeating those words and dancing suggestively around her schoolmates," she says. "Five-year-old children don't have the cognitive development to know what is socially appropriate. She will think this behavior is normal."
According Dr. Kuriansky, Jamie Lynn— who watched her big sister perform sexy songs such as "I'm a Slave 4 U" as a young girl— could be subconsciously repeating unhealthy family patterns.
PHOTO: Jamie Lynn Spears Engaged, See Her Fabulous Ring
"Jamie Lynn grew up with a superstar sister and a world of sex, drugs, and rock 'n roll," the expert explains. "Some young mothers say, 'I acted this way because of what I was exposed to, and I will not do this to my child.' It's very sad she's not breaking the cycle."
Do you think Jamie Lynn made a good parenting choice? Sound off in the comments below.