Jacqueline Laurita Confronts Petty Penny About Her Husband's Crap-Talking: 'He's Saying My Son Doesn't Have Autism'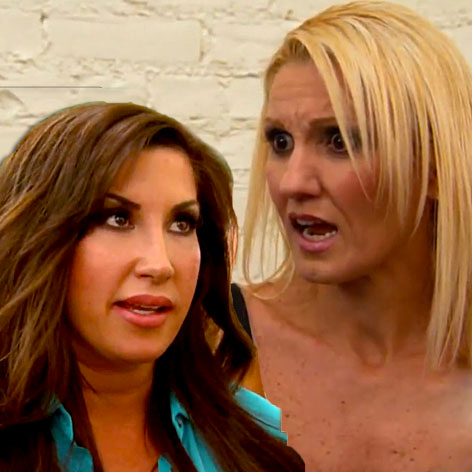 Apparently, not only has Teresa Giudice's friend Penny Drossos been spreading rumors about Melissa Gorga cheating on her husband, but she has also put her own husband Johnny up to making accusations about Jacqueline Laurita.
In a preview for the upcoming episode of The Real Housewives of New Jersey, Jacqueline confronts Penny about the situation.
"I've never met you?" Jacqueline says to Penny. "Where is your husband? Is he here tonight?"
Article continues below advertisement
Penny replies, "He's coming."
Jacqueline jumps right to the point.
³That¹s a lie!² Penny at first says.
Jacqueline doesn¹t believe her.
"I want you to say it to my face," she says. "Look at my eyes and say it to my face."
"He never said that ever,² Penny continues to deny. "If I had a problem, I'd say it to you. I¹m not going to hide from anybody."
Jacqueline doesn¹t let her brush the point aside, though.
"I read your Twitter and it was very attacking," she says. "On yours and your husband¹s. Where¹s that coming from?"
The truth finally comes out.
"I'm going to be very honest with you, there is a person that's talking so much garbage," Penny admits.
Penny now maintains that someone 'asked' her to talk crap about people.
"What the f***? She's speaking out of both sides of her mouth," Jacqueline points out to the camera. "On one side, she's saying she didn¹t do it. The other side, she's saying someone put her up to it. I mean what are you, five? You make your own decisions. It doesn't matter what someone told you to do. You chose to do it. I blame you."
Jacqueline questions Penny: "Someone¹s telling you to call people out?"
"Yeah and it's funny because the person who starts the shit, hides," she answers. "What are you hiding from?"
Jacqueline wants to know who the instigator is, but Penny won't reveal the source.