Howard Stern Says He Was 'Sexually Aroused' By Stacey Dash Battery Arrest Video
Howard Stern lived up to his reputation as the "Shock Jock" when he admitted he got "turned on" and "sexually aroused" over police video of Clueless actress Stacey Dash's recent arrest.
"An officer puts the cuffs on her behind her back. She's in her T-shirt cause he's arresting her right after the fight... Then at one point he asks her, 'Are you wearing panties?'" Stern said during the October 1 broadcast of The Howard Stern Show.
Article continues below advertisement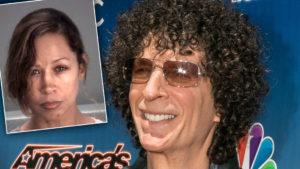 "It was kind of mumbled," the radio host continued. "Then it was determined that she wasn't wearing a bra. Then I got all turned on because she was handcuffed and all she had on was a T-shirt and no bra."
As RadarOnline.com previously reported, 52-year-old Dash appeared to cry as police arrested her for domestic battery after she allegedly "slapped" and "pushed" a male on September 29 at her Florida home, according to a police report.
At one point during the arrest, a female officer asked if Dash had anything underneath her oversized T-shirt before patting her down. She admitted she was not wearing underwear or a bra.
"And then they put her in the police car and her t-shirt kind of got hiked up and I thought, 'I don't think she is wearing panties!' And I'm like, 'Am I getting sexually aroused at Stacey Dash being arrested?" Stern asked on his show.
Article continues below advertisement
He answered his own question, revealing, "To be quite honest, yes!"
"It was kind of hot. I didn't care about her misery.... but because she was handcuffed she couldn't control the t-shirt riding up her thighs," Stern, 65, explained, adding, "I almost beat off to the body cam footage that the officer was filming… I became fixated at looking, trying to see her t***ies through the T-shirt. I thought by now at this advanced stage of mine that I wouldn't be that curious."
Dash was transported to a local jail, where she stayed overnight before authorities released her 15 hours later on a $500 bond.
On October 1, Dash appeared at the Pasco County Court for her first hearing since the incident. The judge ruled that she was still allowed to "maintain contact" with the alleged victim.
While officials would not confirm the alleged battery victim's name, other reports identified him as Dash's husband, attorney Jeffrey Marty.