How You Doin? Jay Leno Can't Stop Staring At Halle Berry's Cleavage!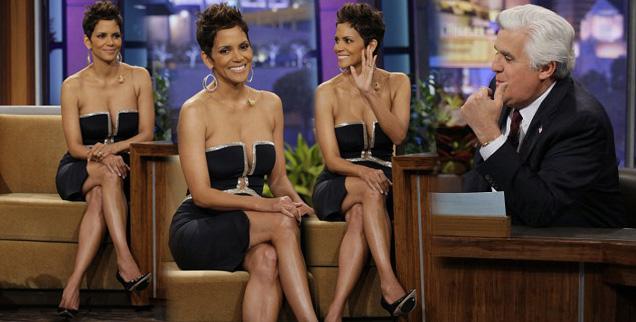 Halle Berry, appearing as a guest on Monday's edition of The Tonight Show, had host Jay Leno in a trance in her extremely low-cut strapless dress with generous amounts of cleavage.
Jay complimented the Catwoman star on her Oscars get-up, but remarked he liked Monday's outfit -- a black LBD dress with silver trim -- much better, constantly staring at the Oscar winner's chest.
Halle, 46, said her Oscar gown came about at the last minute.
Article continues below advertisement
"I had a conversation with Donatella Versace and told her that I really want to go to the Oscars as a Bond Girl, if a Bond Girl would go in 2013. So she came up with her idea of what it was, but she's out of the country.
"She put it in a suitcase and shipped it here, and I got it the day before the Oscars," she continued. "I had some other dress I was going to wear which was beautiful. But I pulled this out and it fit perfectly, and I just thought, 'Wow.'"
After Halle, who has a daughter named Nahla with Gabriel Aubry, said the dress felt like "wearing a Ferrari," Jay cunningly shot back, "Can you drive a stick shift, I'm curious?"
Watch the video on RadarOnline.com
The Tonight Show with Jay Leno airs weeknights at 10:35/11:35 on NBC.