The Housewives Slam Brandi Glanville For Her Sexcapades, Yolanda Foster Steps Up In Her Defense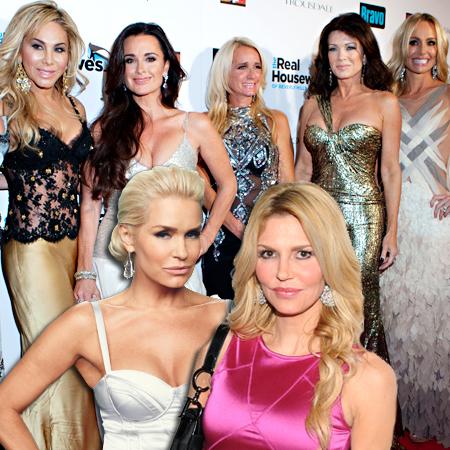 When you get The Real Housewives of Beverly Hills together along with some liquor, drama is sure to ensue, and RadarOnline.com has all the details.
During Adrienne Maloof's over-the-top launch party for her new vodka, several of the housewives began on their favorite topic of conversation -- Brandi Glanville, and while Faye Resnick took the opportunity to slam her, Yolanda Foster tried her best to keep the gossip to a minimum.
Article continues below advertisement
New housewife Marisa Zanuck started off the chatter when she claimed she received a text from Brandi saying that she and her husband should give each other a hallpass to spice up their marriage.
"I don't know that Brandi's the right one to be giving advice on marriage," Adrienne snapped.
Marissa added, "She said when she was married she did threesomes."
"Well that's probably why the marriage failed," Faye chimed in.
Yolanda, never one for idle gossip, had some words of wisdom for the girls.
"But my advice, why are you asking us? Ask Brandi," she said.
"I think Marisa is purposely trying to throw Brandi under the bus because otherwise she would have waited until she sees Brandi in person," Yolanda said to the camera.
Following Yolanda's lead, Kyle Richards began to defend Brandi as well.
"I don't think that after what she went through with Eddie cheating on her and leaving her that she would go there with a married man," Kyle said in response to Brandi having a threesome.
MORE ON:
The Real Housewives of Beverly Hills
Article continues below advertisement
And as RadarOnline.com previously reported, Faye had a claim of her own to make about Brandi.
"What about what happened in your bathroom at the White Party?" Faye asked Kyle. "She was found in the bathroom with not a lot of clothes on. Actually in the bathroom of a child's room, which I thought was inappropriate entirely."
Yolanda wanted no part in the new drama that Faye was trying to start and said, "I just don't want to throw anyone under the bus."
"You don't want to throw anyone under the bus, but she's thrown all of us under the bus," Adrienne claimed.
"I don't think that Adrienne is a very credible source right now," Yolanda confessed to the camera.
"You know, whatever she says about Brandi right now, she's coming from a place of hurt and insecurity. And I just don't feel that Brandi's a backstabber and I don't think she would talk about me."
Tune in next Monday night at 8/7c on Bravo to watch the drama continue.